Danfloor's specialist carpet collection is transforming the living and circulation areas of care settings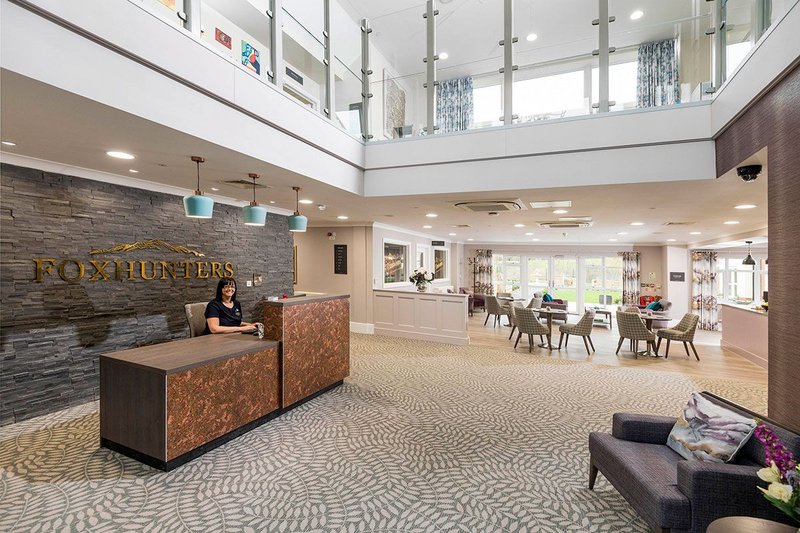 Danfloor's Forest 173 carpet from the Evolution range at Foxhunters Dormy Care Community, Abergavenny. Unfurling fronds of fern introduce natural motifs to the interior.
According to The Financial Times, in 2017, 44 per cent of care home residents were fully self-funded, with increasing numbers of residents and families keen to find stylish care settings featuring high-end hotel-style interiors.
While tonal carpet designs will always be required in certain areas of care establishments, many homes are now moving towards interiors featuring patterned carpets and modern twists on traditional designs, such as plaids for reception areas and communal living spaces.
The Evolution carpet collection, produced by care sector flooring manufacturer Danfloor, is made up of six ranges, including Forest, Origin and Glaze shown here, and offers designs from bold statement patterns to subtle linear effects.
Also available is the Equinox collection, a more tonal range of carpets specifically designed for the care sector. Features include hardwearing and soil and stain resistant yarns, an impervious membrane and anti-microbial yarn treatment, all of which assist with cleaning and help improve indoor air quality.
For free samples, more information and technical support, visit: danfloor.co.uk
Contact:
0333 014 3132
---