Forest of Fabrication exhibition showcases engineered timber with 160m skyscraper. It's safe, argues Alex de Rijke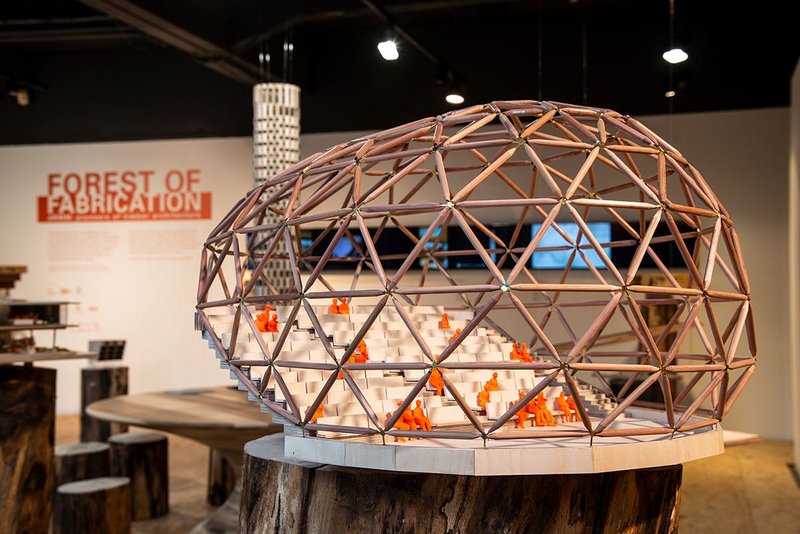 The 300-seat auditorium superstructure comprises a geodesic shell made from 150mm diameter larch poles with bespoke aluminium and steel nodes. Forest of Fabrication exhibition, The Building Centre, London.

Credit: Sue Barr
A provocative proposal for a 160m tall timber tower – that could not currently be built in the UK because of government legislation – is one of 24 projects being showcased in an exhibition curated by dRMM.
Forest of Fabrication, at London's Building Centre, aims to celebrate the capabilities of engineered timber, from concept to construction, through 12 completed and 12 speculative projects that have pushed the boundaries of design and structure.
dRMM's proposal for the mixed-use building was created specifically for the show and comprises a concrete core with an external load bearing structure of interlocking timber beams and cross laminated timber panels. The facade resembles a series of stacked bay windows that bring light into apartments and enable 50% of the surface to be glazed.
The high rise could be built anywhere in the world, but not in Britain. Regulations introduced in the wake of the Grenfell Tower fire, prevent the use of combustible materials, including timber, in the facades of residential buildings above 18m.
Alex de Rijke, founding director of dRMM, told RIBAJ: 'We wanted to illustrate that the regulation is short sighted and puts mass timber in the same pot as toxic cladding. The tragedy of Grenfell was not related to timber, but the presence of a toxic composite cladding that was very flammable and produced very poisonous smoke.'
He added: 'Mass timber structures are in fact very safe. In a fire combustibility is very predictable compared, for example, to steel structures.'
The exhibition takes visitors back to 2002 and with a model of a pioneering asymmetric geodesic timber frame auditorium designed by dRMM and Gordon Cowley for Kingsdale School, in south London.
The freestanding two-storey structure is inside an existing hall and Rijke compares it to a deflated football pressed into the corner of the space.
Special steel nodes were developed to connect to the ends of cylindrical timber beams at any angle. This is combined with a structural skin of CNC-cut birch plywood to create a rigid structure. Another phase of the project, to build a sports hall and music block, was notable for being the first in the UK to use CLT.
'We have been on a long 24-year journey with engineered timber,' says de Rijke. 'Until quite recently it was regarded as a second-rate material compared to concrete or steel, but thanks to the advocacy of us and other like-minded organisations its legitimacy is increasingly being recognised.'
---
Forest of Fabrication – dRMM: pioneers of timber architecture runs until 17 May 2019 at The Building Centre, Store Street, London