SterlingOSB Zero turned an old garage into a creative studio for an architecture practice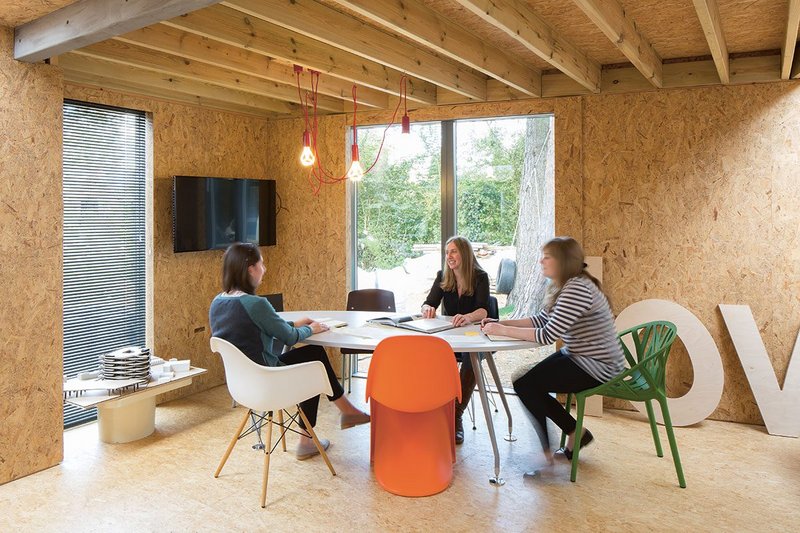 Chadwick Dryer Clarke Architects' former bungalow garage, now lined with Sterling OSB Zero, is now a homogenous extension of its Cambridge office.

Credit: Richard Chivers
A full interior lining of SterlingOSB Zero transformed a tired 1970s bungalow garage in Cambridge into a honey-hued creative studio for up-and-coming practice, Chadwick Dryer Clarke.
The 45m2 conversion /extension, at the rear of the property owned by company co-founders Robin and Delphine Dryer, comprises an open plan studio with spaces for six employees, a meeting area with visitor seating and storage, and a self-contained kitchen and toilet.
'We saw the project as an opportunity to create an identity to express to potential clients when they visit,' says director, Robin Dryer. 'We wanted a space that feels creative in its outlook, an extension of our way of thinking and designing, and definitely not a "finished" or corporate atmosphere. We had previously worked in offices with carpets, plasterboard and ceiling tiles etc. This was deliberately trying not to be that.'
The garage walls were upgraded to comply with Building Regulations and covered with an interior layer of 15mm SterlingOSB Zero OSB3. Thicker 18mm panels on top of the open roof joists form the structural deck and the base for a single ply membrane. Roof boards are exposed on the underside to form the pre-finished studio ceiling.
SterlingOSB Zero tongue and groove flooring completes the timber lining and was treated with two coats of the hard-wearing lacquer Bona Traffic to resist daily wear and tear. The timber theme continues outside where exterior walls are clad in vertical larch battens.
CDC Studio wanted a rough and raw aesthetic, contrasted with more refined 'things you can touch', such as Anglepoise lamps and Vitra furniture. The relative low cost of particleboard made it possible to pay for these pricier additions.
'The timber walls contrast with charcoal electric sockets, light fittings and switches supplied by Germany's Gira, bought with the money we saved by using Norbord's SterlingOSB Zero,' says Dryer.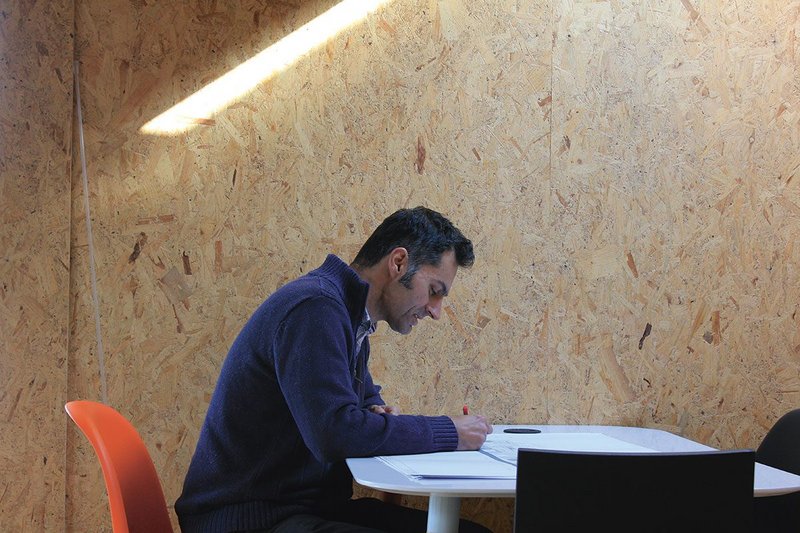 The new interior produes a 'honey-hued' warmth to the space.

Credit: Richard Chivers
The project was essentially a self-build and the standardised boards proved easy to handle and cut. Panels are fixed with countersunk brass screws that are virtually invisible against the wood and can be easily removed to enable access to electric cabling.
Concerns that cutting the OSB would result in rough and uneven corners, due to the internal woodchip layers, proved unfounded. 'They looked fine after sanding. If I was a joiner, I might have considered mitring them, but that would have added a level of complication,' says Dryer.
The crisp edges are most notable on the window reveals where OSB runs flush with the inside of grey timber Veflac window frames to conceal them from view. The same technique was applied to the reveals for the French doors
The tough and durable nature of SterlingOSB Zero made it possible to run the timber down to the floor with a slim shadow gap at the base, eliminating the need for skirting boards.
The bold move to apply the material as a finish, not as a sheet material that is covered up, paid off. 'Employees love the creative studio environment. People who visit notice it and remember it,' Dryer concludes.