New ceramic floor tiles for the ENSCO 71 Oil Rig
What: Ceramic floor tiles
Where: ENSCO 71 Oil Rig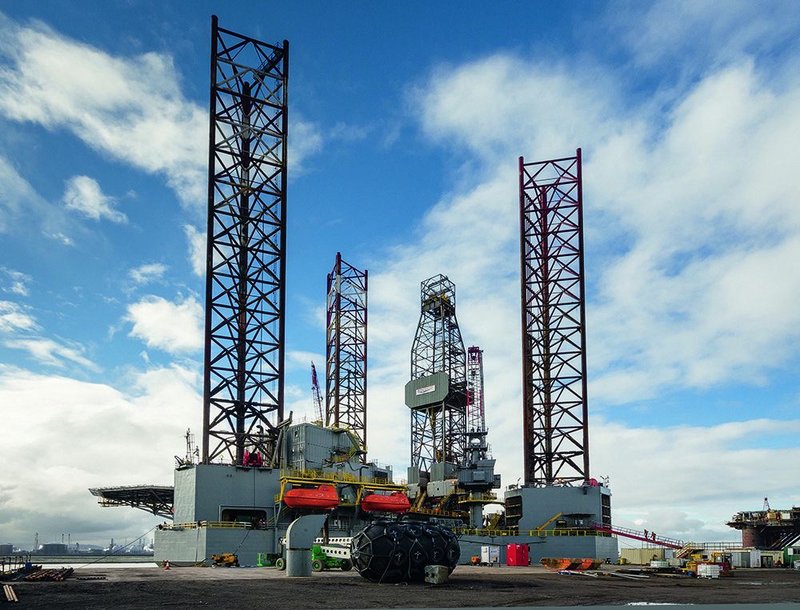 The Ensco 71 spent three months being refurbished in Hartlepool.
'Life is hard and there are real risks on the drill floor of an oil rig – and in the North Sea it's particularly harsh,' says Rigfit director Brian Knowles. 'You're away from your family in a challenging environment for two weeks a month, and it's our responsibility to make people as comfortable as possible.' Rigfit, a specialist oil rig contractor, started in 2002 with Knowles doing general carpentry, but has grown to over 100 people, carrying out full-scale refurbishment for the likes of BP, Shell and Total. Based in Aberdeen and Dubai, Rigfit's turnover is over £48m.
With an £8.5m budget, the ENSCO 71 rig is its largest project to date. Refurbished in Hartlepool, it is now stationed off the west coast of Denmark. Expanding the person on board (POB) capacity from 84 to 98 meant craning in a 12m by 18m by 9.5m high box containing ensuite accommodation cabins, and a radio room, plant and living quarters. Existing galley kitchen, mess hall, dry stores, walk-in freezers and ablution areas were also refurbished.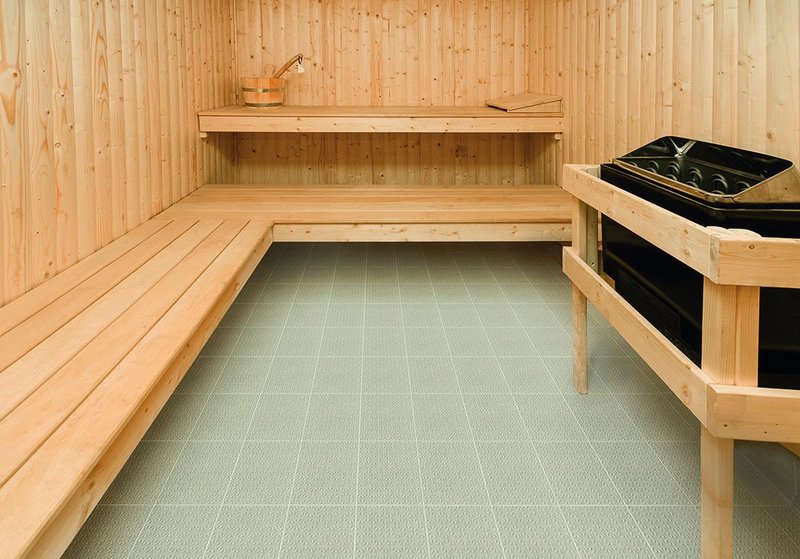 Tiles in the saunas, wetroom and gym.
Knowles explains that it's not building regulations that the refits have to adhere to, but maritime law, which depends on whose waters you're in. The North Sea is subject to DNV Classifications (Det Norske Veritas), a Norwegian foundation set up in 1864 to evaluate the conditions of its national merchant vessels. 'They're the most onerous of the lot,' says Knowles, 'primarily concerned with the fire retardancy of vessels at sea, but other organisations will have a say – the American Bureau of Shipping for example, and Lloyds of London.'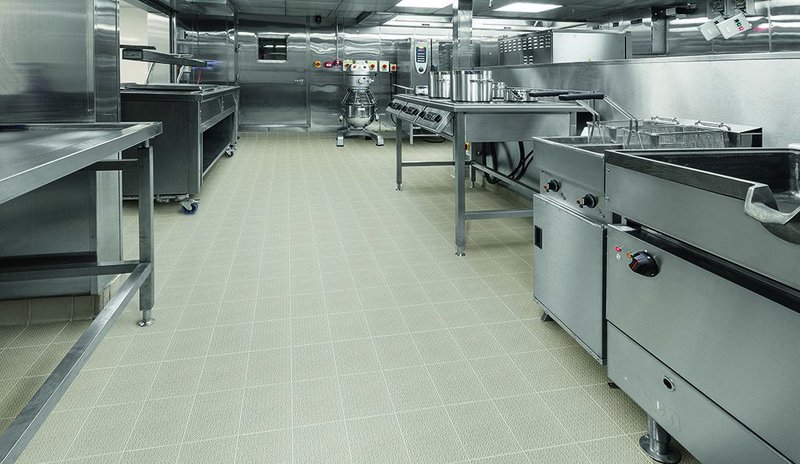 With two shifts every 24 hours, the rig's galley undergoes heavy footfall.
Of the 100 or so people on the rig, about 10 will be full-time staff overseen by the 'camp boss', whose sole purpose is to do carry out the cooking, room cleaning and laundry for the other 90 drill floor workers. Drilling is 24-hour activity and spaces like the galley and mess room are busy round the clock, with day and night chefs keeping the kitchens churning out three meal options per sitting.
Workers that haven't burned off the calorie quotas on the drill floor have a gymnasium, sauna and solarium to work off the rest. Knowles says that all the products his company specifies have to be able to resist the demands of almost 24 hour use. In the hard-earned leisure time, the solarium is obviously well-used – Knowles quips that workers are seen coming back on shore sporting a very particular shade of orange…
Dorset Woolliscroft Tetra tiles on the ENSCO 71
> Fully vitrified dust pressed tiles
> 4 colours, 2 formats: 148x148mm and 300x300mm
> Coverage (tiles per m2) 44 (148x148), 11 (300x300)
> Slip resistance: Pendulum Dry 65. Pendulum Wet 55. R Value R11.
Barefoot Ramp: C. Displacement Vol:V4
> With surface profile, good slip resistance qualities
> Suitable for internal and external use
Wet areas, retail locations, light industrial units, external walkways
Food preparation areas where soiling is likely
> Good volume displacement properties as profile pierces surface debris
---
Dorset Woolliscroft Tetra 148mm by148mm floor tiles in steel grey were installed in the ENSCO 71 rig's main galley, changing rooms, toilets, hospital, and leisure and sauna areas. Tetra's pyramidal surface profile is slip resistant for barefoot and shod traffic.
John Henry, project manager for Dorset Woolliscroft, says that through supplier Aberdeen Tiles, the tiles have a long history with rig fit-outs. 'They've also been specified on Fred Olsen cruise liners, as well as MoD buildings and schools. They're generally tested on more demanding projects,' he says.' Here they were specified on around 200m2 of floor. Henry explains that since rigs are refurbished every four years, that's how long specified products are expected to last.
The 148mm by 148mm module is small to specify for floors, but there's a reason. It allows for the falls needed to drain the floor and reduces the possibility of individual tiles cracking. The build-up is a marine-rated cement screed primer with up to 50mm insulation, topped by a thin layer of 4-6mm diameter pumice pellets to level the surface, and a final 3-4mm top coat screed.
---