Indian sand shortage sees recycled plastic top up the mix in 'plasticrete'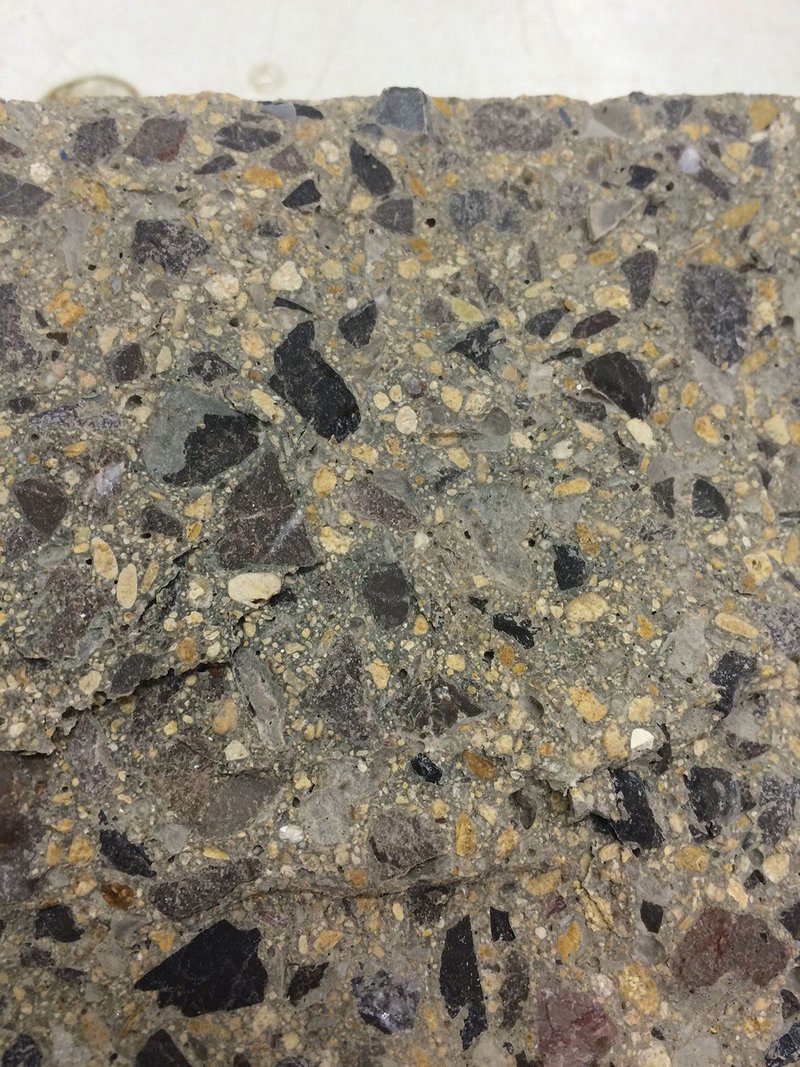 Close-up view of concrete with plastic particles replacing some of the sand.

Credit: University of Bath
What: Waste plastic replacing sand in concrete
Where: University of Bath with Goa Engineering College
A new form of concrete could improve its green credentials by incorporating plastic in the mix. An international team of researchers has swapped sand for waste plastic, making a product that has the potential to cut the material's carbon emissions and recycle plastic.
The research, conducted by the University of Bath in partnership with India's Goa Engin­eering College and published in the journal Construction and Building Materials, was prompted by a severe sand shortage in India as the country experiences an unprecedented construction boom.
At the same time waste plastic is rarely recycled in India, with as much as 40% ending up in landfill. The study found that by replacing 10 per cent of the sand component of concrete (typically 30 per cent) with finely ground plastic particles, a target compressive strength of 54 MPa was achievable – similar to that of structural concrete and potentially saving around 820 million tonnes of sand per year.
Dr Richard Ball, from Bath's department of architecture and civil engineering, told RIBAJ: 'This is timely research. Waste plastic is a big problem and people's awareness of the associated drawbacks is heightened. Putting it into concrete is one possible solution. This work has demonstrated that it warrants further investigation.'
Researchers examined the impact of five finely graded plastics on the structural strength of concrete tubes and cylinders, experimenting with different particle sizes, ratios of sand to concrete, and two different chemical treatments. They tried to strike a balance between adding enough plastic to make a worthwhile impact on sand use while ensuring that the concrete produced was not too weak.
Sand-sized Polyethylene Terephthalate (PET) particles derived from recycled plastic bottles provided the best results, achieving the target compressive strength.
Using synthetics like plastic in concrete generally weakens the material because they do not bond to the cement mix as well as sand. Properties such as the type of plastic, particle size and shape, and the rheology of the wet mix all have an influence on the strength of the finished concrete.
However, even if the strength of the concrete is compromised and unsuitable for structural applications, there may still be end uses, such as for paving slabs.
Ball admits there is variability in the results and to ensure there are no longer term structural issues, additional tests will be needed to the rheo­logy of the wet mix, environmental durability and fire performance.
He adds that waste ocean plastics may not be suitable for the process, as much of the material is likely to have degraded by being exposed to UV light and salt water. 'It is something that's worth investigating further,' he says. 'Waste from a recycling plant also tends to be variable in terms of its properties. There is a mix of different types of plastic and there could be contamination from other materials. The composition over days, weeks, months and years at the plant is likely to change based on what waste is going in and what is coming out.'
Waste plastic from industrial processes could provide a more uniform consistency and the researchers have been in discussions with a firm that recycles PVC window frames as ground plastic with a small particle size.
It is estimated that more than 20 billion tons of concrete are produced globally each year, making it the world's second most consumed substance after fresh water.
Environmental concerns arising from the over-dredging of sand in India have led to restrictions on its extraction, with a direct economic impact on concrete construction.
The Indian central pollution control board reported in 2008 that approximately 15,000 tons of plastic waste is dumped every day in India. Non-biodegradable plastic waste is inert and breaks down very slowly once buried in landfill.
UK construction still relies heavily on single use plastic packaging, principally plastic films, that are typically bundled up and incinerated at energy from waste plants.
Large quantities of plastic end up in general mixed waste and are impossible to recycle either because they cannot be identified or they are contaminated with other materials.