The architectural surface firm's antibacterial, anti-pollution photocatalytic ceramics are at the heart of Progetto CMR's redevelopment of De Castillia 23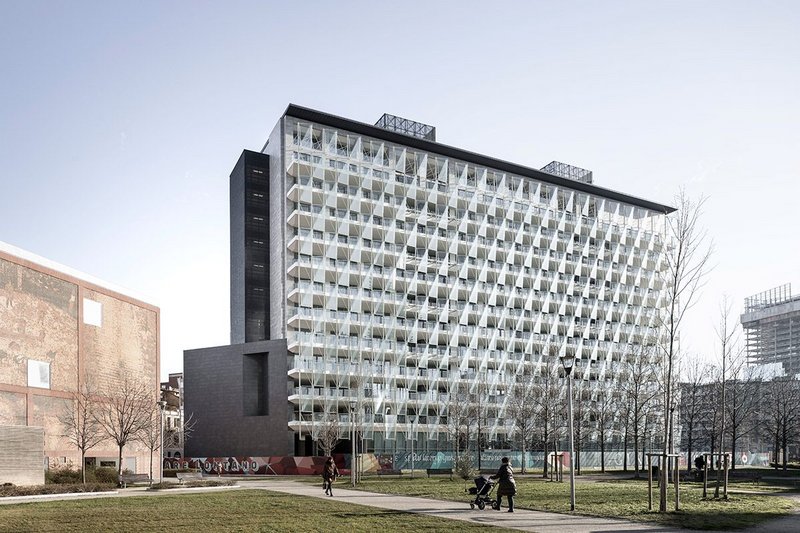 De Castillia 23 in Milan: The prismatic facade reflects light with a shimmering effect that shifts depending on the weather and the time of day.

Credit: Alberto Strada
Integrated design company Progetto CMR has chosen Fiandre Architectural Surfaces to develop sustainable cladding solutions at De Castillia 23, an office redevelopment in the Isola district of Milan.
The company's eco-active ceramics cover 16,088 square metres and, according to the University of Milan, can counteract 59 kg per year of nitrogen oxide, equivalent to over 200,000 square metres of green space - the reason why De Castillia 23 is known as the 'smog-eating' building.
Entirely designed using BIM, the project combines sustainability, innovation and functionality. Located in front of Bosco Verticale, the refurbishment features a dramatic new prismatic facade and photovoltaic and geothermal systems that produce energy and heat without releasing pollutants into the atmosphere.
Fiandre developed tailored cladding solutions for the facades, balconies, outdoor flooring and external columns, including the Granitech ventilated facade system with visible anchoring brackets, which ensures that buildings have a long life, as well as wall durability and energy efficiency.
Cloudy Core Active and Sharp Core Active variants from Fiandre's Core Shade Active ceramics collection were used at De Castillia 23. The photocatalytic ceramic surfaces are self-cleaning, anti-odour, anti-pollution and antibacterial, providing 24-hour antibacterial protection, even in the dark.
When air, humidity and light (natural or artificial) are present, the surface of the tiles becomes oxidised, which degrades the hazardous pollutants that come into contact with it, such as nitrogen oxides and volatile organic compounds. This has huge benefits for those who live in the building and in the neighborhood.
As dirt is less likely to adhere to the surface of Active tiles, they are also easier to clean, only requiring water and mild detergents, rather than toxic chemicals. A 120x60cm main tile format was chosen so that whole porcelain stoneware tiles could be used without waste.
Inside, Progetto CMR remodelled the interiors to allow for more natural light. Porcelain stoneware in the Dusty shade from Fiandre's Fjord collection was chosen for the bathroom tiling due to its anti-slip and easy-clean properties essential in spaces where hygiene is paramount.
Fiandre Architectural Surfaces is part of the Iris Ceramica Group. It manufactures high-end full-body porcelain tiles. Its new-generation Active surfaces help improve air quality and keep environments cleaner, healthier and more hygienic. Find out more at active-ceramic.com
For more information and technical support, visit granitifiandre.com
Contact:
Iris Ceramica Group, London
020 3642 1141
---