Two-storey pontoon dwellings aim to tackle issues of rising sea levels and lack of available urban space for building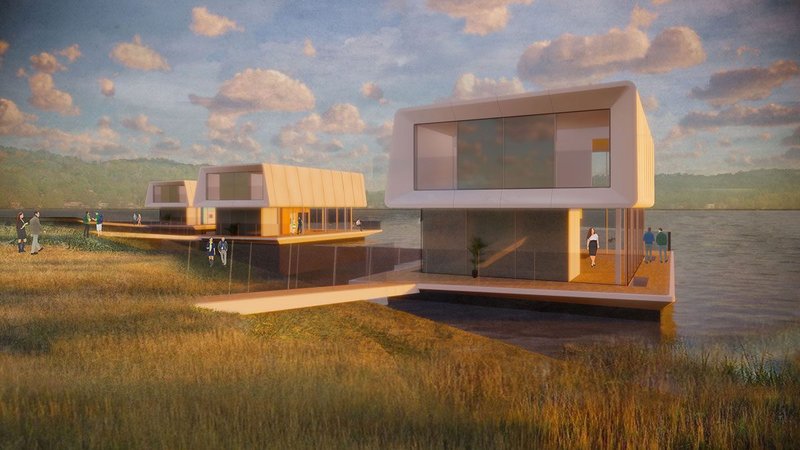 Testing the water: The first floor is enclosed in GFRC cladding.

Credit: Grimshaw
The sight of tugboats pulling modular homes along the waterways of Europe could become a regular phenomenon if a concept developed by Grimshaw Architects takes hold.
The practice collaborated with Dutch manufacturer Concrete Valley to develop designs for two-storey floating dwellings intended to tackle the twin issues of rising water levels due to climate change and a lack of available land in urban centres.
The homes would be fabricated from a set of standardised components and leave a riverside factory in a completed state before being towed on water to their final permanent location. A range of sustainable features, including rooftop solar panels and heat exchangers built into base pontoons below the waterline, would enable the homes to achieve near-zero energy use.
Offsite fabrication using durable and non-corroding components and the associated lack of waste and on-site construction activity would minimise embodied carbon, despite the use of concrete for the base pontoon.
Concrete provides the weight needed to stabilise the dwellings, requires almost zero maintenance, no paint finish or extra waterproofing layer. However, the designers are currently examining ways to reduce carbon associated with its manufacture, perhaps by incorporating recycled aggregate or using cement replacements. Overall embodied carbon modelling for the floating homes concept is currently underway.
'The pontoon has a fairly basic and robust shape,' says Jorrin Ten Have, associate principal at Grimshaw. 'You could imagine that element of the house lasting more than 100 years. In the most radical scenario you could build a completely different house or building on top of the same base. It's not a case of "concrete is bad" full stop. If you use it in the right way it can actually outperform other materials.'
The component-based approach to fabrication would enable a variety of internal layouts: homes could be simply orientated in different ways to improve access to light and views or respond to site conditions.
It is hoped the proximity to water and open space would encourage an active lifestyle and boost occupants' health and wellbeing.
'As people live more urban lives in closer proximity to dense developments they may be becoming detached from nature,' says Neill McClements, partner at Grimshaw. 'We see these either as being permanent homes for people who want to live a lifestyle that brings them closer to nature or shared holiday homes where a large number of people get the benefits. We're very keen that these aren't just second homes for rich people. It's aligned with the idea of the shared economy.'
The team is planning to build a full-scale prototype in the Netherlands next year. Concrete Valley will fully fund the initiative and fabricate all the components at its riverside factory in Bergen op Zoom.