The Forbo linoleum brand contains no plastics and is made from 97 per cent natural raw materials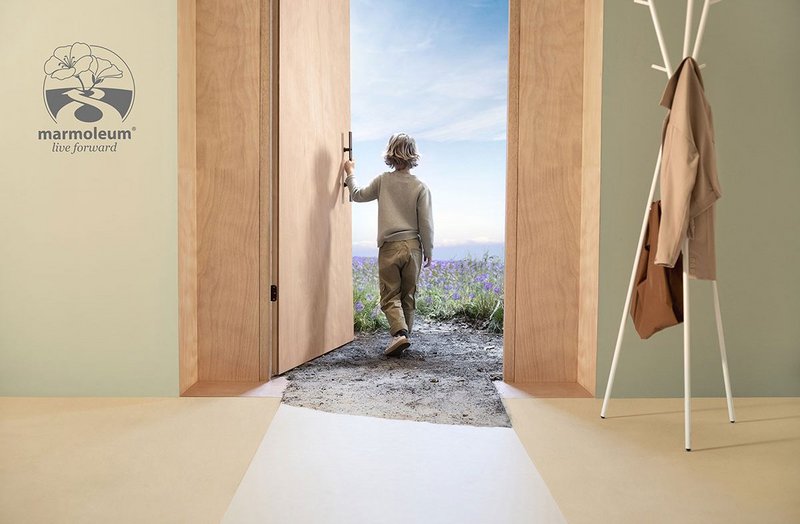 The Marmoleum Live Forward campaign: Designing sustainable floors that are good for people, buildings and the environment.
Forbo Flooring Systems' Marmoleum 2.5mm linoleum is CO2 neutral from cradle to gate, without the need for carbon offsetting measures.
Unlike many vinyl flooring products, Marmoleum does not use plastics such as polyvinyl chloride (PVC) and is made from 97 per cent natural raw materials. This includes flax, jute and linseed oil, which are obtained from annual crops, and wood flour and pine rosin sourced from sustainably managed forestry plantations.
Sixty-two per cent of the natural ingredients are renewable, of which 29 per cent are rapidly renewable, meaning they will grow back within one year. To reduce the demand for virgin raw materials, Marmoleum contains 43 per cent reused and recycled content.
The carbon neutrality of Forbo's 2.5mm Marmoleum from cradle to gate is confirmed by the independent Environmental Product Declaration (EPD). It shows that the CO2 removed from the atmosphere during the growing of its natural ingredients balances out the CO2 produced in the extraction, transportation and manufacturing processes.
Marmoleum offers true design freedom, with over 300 colours and designs to choose from. It is also phthalate free, Allergy UK-approved and features Forbo's Topshield high performance UV-finish.