Clients are often willing to pay a premium for integrated home innovations and, a new report suggests, the washroom-as-stress-buster has a lot of untapped potential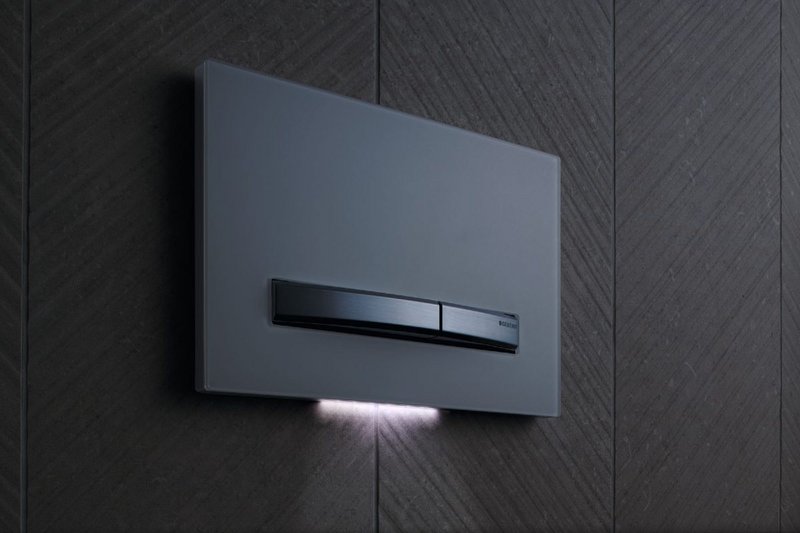 The Geberit Sigma50 with DuoFresh odour extraction flush plate comes with an optional built-in sensor and an LED orientation light to lead the way at night.
Bathroom manufacturer Geberit has polled 1,200 UK homeowners to find out how they use technology in the home and how willing they are to invest more in homes with smart solutions.
The firm has produced the findings of its YouGov poll in a report called Why Bathroom Technology is a Smart Choice for Housebuilders and has partnered with Grant James Bates, director of London estate agent Hamptons, to explore the untapped potential of the bathroom space.
Thirty-five per cent of respondents to the Geberit survey said they would be willing to pay more for a new home with technology. Four-in-ten believed there could be more technology in new-build homes.
Where in their homes do people want smart technology?
The post-pandemic 'hotelisation' of the home and its transformation into multifunctional spaces that are part gym, office and sanctuary has been transformative. According to Bates, 'leaving home is a choice, not a necessity for some occupants'.
When asked about their own homes, only 2 per cent of homeowners currently have smart devices, home automation and touchless technology in their bathroom, compared with 70 per cent in the living room, 34 per cent in the kitchen and 29 per cent in the home office. This suggests that there is a real untapped opportunity to meet the demand in the bathroom too.
The bathroom is a significant space in our lives. In 2018 research by Geberit found that nearly three quarters of people struggle to find time to relax and, for respite, the bathroom was the most popular place of escape.
Could technology hold the key to unlocking the potential of this room for more homebuyers?
When asked what technology respondents would expect to find in a new-build bathroom, they said:
How architects and housebuilders can harness existing bathroom technologies
Bathroom technologies are generally fuss-free innovations that are already available from manufacturers, such as Geberit:
According to Bates, for some the main consideration when buying a home is prioritising day-to-day enjoyment of life and they are willing to pay a convenience premium for it. 'The practicality and convenience of the home are as important to them as the interior design.'
To download the report visit geberit.co.uk/technology
Contact:
01926 516800
---