Unwanted noise in the home is having a direct impact on wellbeing. In a new white paper, bathroom manufacturer Geberit calls for a radical rethink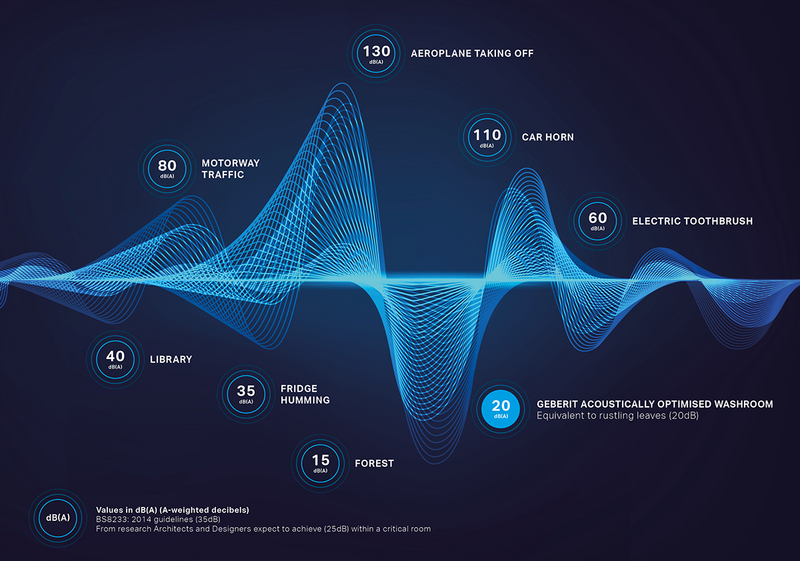 Geberit has surveyed more than 2,000 adults across the UK to assess the impact of everyday noises in and around the home.
More than a third of respondents (38 per cent) said that noises inside the home affect them more than traffic from outside. More than half (51 per cent) said these noises negatively impact their wellbeing.
Around a quarter of us are regularly disturbed by bathroom sounds at night or when relaxing. Despite bathroom fittings having direct contact with walls and floors, regulations governing the control of waste water noise inside new buildings are unclear.
Geberit found that one in five (19 per cent) of us are regularly disturbed by flushing toilets, running taps or pipes and drains. UK regulations offer little clarification on the products available to achieve specific sound pressure.
British Standard 8233:2014 Guidance for Sound Insulation and Nosie Reduction in Buildings states that water systems 'are not to cause disturbance in normal use'. Building Regulations (2010) Approved Document E 'Resistance to the passage of sound' stipulates that any wall or floor should reduce the noise transmitted to the next room by 45 decibels or more, but then fails to set a maximum noise level.
While architects and specifiers can use their expertise to incorporate solutions that reduce waste water noise - and increase wellbeing - without UK standards there is no baseline requirement. Similarly, there is no defined approach to testing so no incentive for a collaborative approach for suppliers working on a single project.
By contrast, Germany's acoustic standard sets maximum limits for acoustics inside a building. While some leading manufacturers in the UK will ensure all products adhere to these standards, there is no baseline figure for the sound pressure of water and drainage passing through pipe system in UK guidelines.
Everyone is aware that buildings need to consider acoustics, but without recognised standards to work to, it's a challenge for architects to specify a well informed, collaboratively tested solution across an entire building.
It is time for the UK to revisit standards and outline maximum sound pressure figures and fair testing, enabling architects and specifiers to work together to achieve better results for end-users.
Download the white paper, 'A Sound Solution', at geberit.co.uk/acoustics
Contact:
01296 516800
---