Bathroom manufacturer calls for a full-system approach to washroom design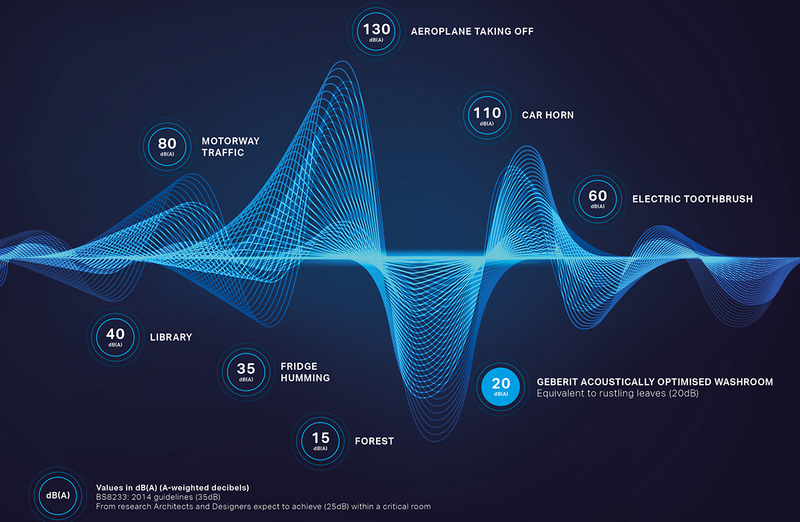 Manufacturers including Geberit continuously innovate to reduce noise pollution.
Unnecessary noise in the home is having a negative impact on the wellbeing of occupants, says Geberit.
Last year, the bathroom manufacturer surveyed more than 2,000 adults across the UK (YouGov, April 2021).
More than a third (34 per cent) said noise from traffic affected them less than noise inside the home. Of those, more than half (52 per cent) indicated that their wellbeing was affected.
What are the most annoying sounds in the home?
Bathroom noises regularly disturbed at least a quarter of those surveyed, with flushing toilets, running taps or pipes and drains the most common sources of disturbance.
Geberit believes the increased use of external sound insulation to mitigate outside noise such as road traffic may be amplifying internal noise levels.
What are the building regulations around internal noise in the home?
Although bathroom fixtures and fittings are in direct contact with walls and floors, there are no clear regulations around the mitigation of waste water noise for new buildings.
With no baseline for UK standards and no defined approach to testing, Geberit believes there is little incentive for a collaborative approach from multiple suppliers working across a single project.
Everyone involved in building design in the UK should use this lack of guidance as a catalyst to make better-informed decisions over building noise, says the manufacturer, starting with specifying the right products.
The onus must be on architects to take a holistic system approach to building noise, working with partners across a project to design effective systems.
At the heart of this is product choice. Acoustically optimised pipework (inherently using more dense materials), when combined with rubber and plastics where possible for decoupling and dampening, will not transmit sound as well as less dense materials.
When considered alongside effective building insulation, low-noise mechanical climate systems and other acoustic performance measures, it provides a whole-building solution that addresses the needs of occupiers and adds value for developers.
How to specify quiet bathroom products
Many architects and specifiers are already making informed decisions to find and use products that reduce waste water noise in the home.
Quiet bathroom products include sound-optimised drainage piping such as Geberit's Silent-dB20, which reduces noise from flushing water and wall-hung WCs with concealed cisterns and pre-wall frames.
When these products are tested as a complete bathroom system, they can achieve a value of 20dB (compared to 30dB) in the bathroom and a value of 25dB (compared with 35dB) in the adjoining room.
For more information and technical support and to download the Geberit whitepaper, 'A Sound Solution - The impact of wastewater on building design and the need to challenge UK perceptions around acoustic performance', visit geberit.co.uk/acoustics
Contact:
01926 516800
---