White satin option is available across full range of sanitaryware products, giving architects extra creative scope for their residential and commercial washroom commissions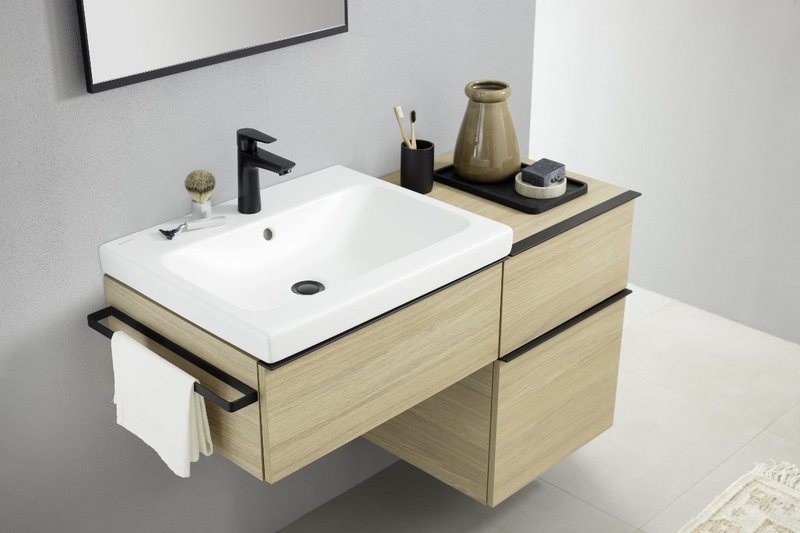 Geberit iCon washbasin in White Satin finish with iCon modular furniture in Oak wood-textured melamine.
Bathroom manufacturer Geberit has added an elegant White Satin finish to its sanitaryware range.
One of the key products to feature the new finish is the Geberit AquaClean Sela shower toilet, a statement piece for luxury bathroom designs.
The popular iCon range of washbasins and wall-hung WCs is also now available in the new finish, allowing designers to create cohesive and harmonious residential and commercial washrooms.
Another notable inclusion for the White Satin product finish is the Geberit ONE wall-hung WC. This cutting-edge WC combines sleek design with advanced technology for an unparalleled level of comfort and cleanliness. With the new finish it can become the centerpiece of any bathroom design.
By expanding the range of finishes available, Geberit provides architects and specifiers with more opportunities for customisation and personalisation.
Whether aiming for a contemporary, minimalist look or a more traditional and classic style, White Satin brings versatility and elegance to any design theme.
'We strive to provide exceptional quality and innovation,' says Pete Davis, product and marketing director at Geberit, 'and the White Satin finish is testament to our commitment to helping architects create remarkable spaces for their clients.'
For more information and technical support, visit geberit.co.uk

Contact:
01926 516800
---