Almost half of architecture students are women, yet the architectural profession, particularly at senior level, is still largely male dominated. Why?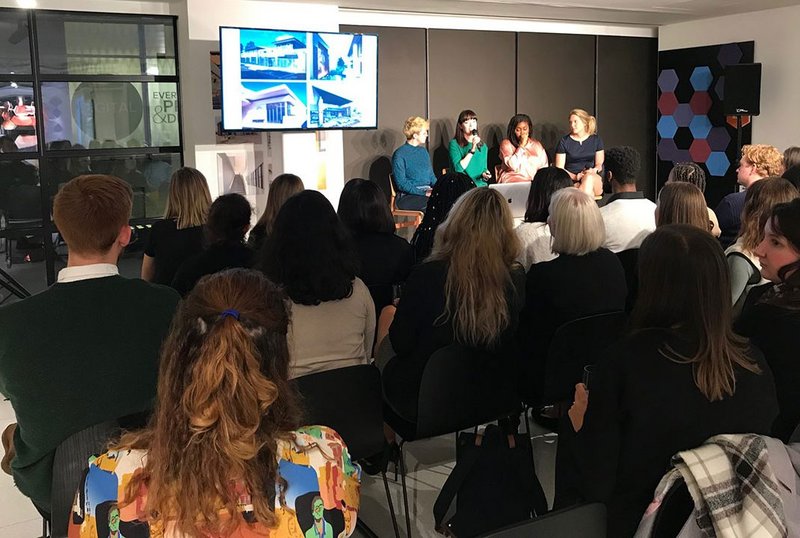 The 'Women in Architecture' panel addressed gender issues in industry and education. 'You can get reading lists with no women on them throughout your architecture education.'
Is it the wage gap, unsocial working hours or discrimination? To better understand the issues facing women in architecture Knauf, one of Europe's leading building materials manufacturers, hosted a 'Women in Architecture' talk in November 2019 at Knauf's Clerkenwell showroom. The event brought together a panel of three female architects to discuss issues facing women in the profession.
The speakers were: Helen Taylor, senior associate, Woods Bagot architects; Aaliyah Lawal of Make architects; and Bryony Spottiswoode of Hopkins Architects.
The panel explored a range of topics including challenges facing women in architecture and construction, steps that established institutions can take to prevent these challenges existing in the first place and how to deal with sexism in the workplace.
In 2019 there was a little over 2.5 million construction workers in the UK, however, just 14 per cent of them were female. Furthermore, the percentage of women working in construction has hovered around the 14 per cent mark for the past 20 years.
The gender imbalance in architecture fares slightly better than construction with 26 per cent of registered architects being female. However, considering that 49 per cent of all architecture undergraduates are female, there is still a disparity in female representation in the industry.
So, what are the key problems preventing progress and how do we go about solving them?
Of course, there is no absolute answer and, while the speakers exercised a level of patience towards seeing greater female representation, they were also keen to encourage the industries to take note of concerns put forward by female employees.
'There are two things at play,' said Bryony Spottiswoode. 'One is that it takes time for the 50 per cent at university to filter through. The other is that it is not as attractive for women to pursue senior roles because the way that society has developed is that we have other roles in life. For whatever reason - perhaps it's a lack of understanding or appreciation - the office environment is not very permeable to somebody who's also got another role being a parent or a carer. I don't know that there's one solution. Perhaps it's about working together to find the best way to help each individual.'
'It's so important that a practice works with every woman that it employs because the bottom line is that not every woman is Superwoman,' said Aaliyah Lawal. 'We can be highly skilled architects with ideas ready to change the world, but we can't spin a hundred plates.'
'Flexibility in working practices is key,' said Helen Taylor. 'But also measuring your performance as a studio can help. It's easy to measure the pay gap or the number of women you have in senior positions, but it's harder to measure the culture of the studio. Until you start to see what the problem is you can't fix it.'
For more about the event, visit knauf.co.uk/women-in-architecture-and-construction
---