Architects Barr Gazetas have opened up the top of a London office building by designing in two structures: a glazed box and a walk-on skylight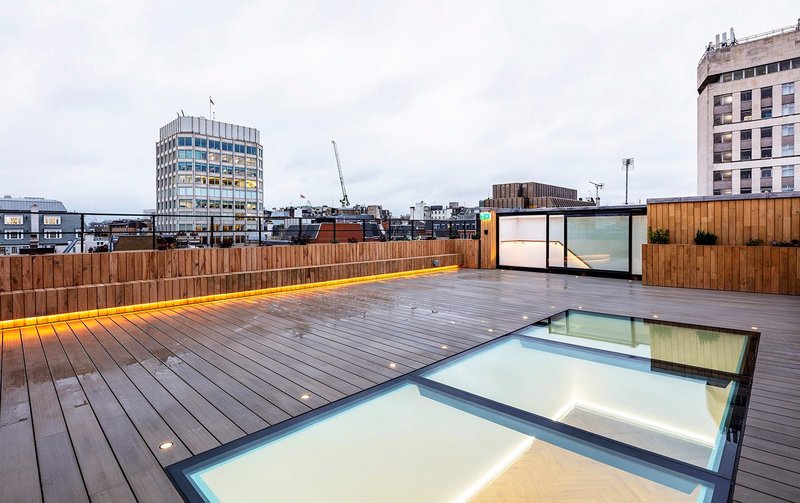 Perfect partners: Glazing Vision's Three Wall Box and Flushglaze Walk-on Rooflight expand space and light at the Duke Street St James's offices in Piccadilly, London.
Architects Barr Gazetas and fit-out specialists BW: Workplace Experts have remodelled a contemporary, six-storey central London office block by adding a private rooftop terrace that also improves natural daylight levels on the floor below.
The design has increased the sixth floor space at 6 Duke Street St James's from 2,821 to 3,790 sq ft.
To achieve this, the architects specified a Three Wall Box Rooflight and Flushglaze Fixed Multipart Walk-on Rooflight from Glazing Vision for the project.
Glazing Vision's Three Wall Box Rooflight
The Three Wall Box Rooflight was mounted to walls at the rear and two sides. It is operated at the touch of a button: as the user climbs the stairs, the rooflight retracts into its open position, allowing the user to walk straight out onto the terrace.
The Glazing Vision design provides easier terrace access than a standard 'hatch' product and an almost seamless integration into the fabric of a building. It includes a proximity detector and battery backup as optional extras.
Glazing Vision's Flushglaze Walk-on Rooflight
The Multipart Walk-on Rooflight was key to providing as much light as possible to the floor below.
The standard glass specification is designed to withstand regular foot traffic in domestic applications with uniform loadings of 1.5kN/m² and concentrated loadings of 2.0kN in accordance with EN 1991-1-1:2002.
On this project the two rooflights have been designed to complement each other and create a visually impressive, accessible terrace area.
In London, a roof terrace can add 12 per cent to the value of a property, rising to as much as 25 per cent in areas such as Chelsea.
Glazing Vision designs and manufacturers access rooflights at its headquarters in Diss, Norfolk. The firm offers architects and specifiers a 'start to finish' service and installation via its sister company, Glazing Renovations.
Find more on this case study at glazingvision.co.uk/case-studies/london-office
For more information and technical support, visit glazingvision.co.uk
Contact:
01379 658300
---