The ability to specify individual brassware components means architects are better able to create tailor made washroom solutions for their clients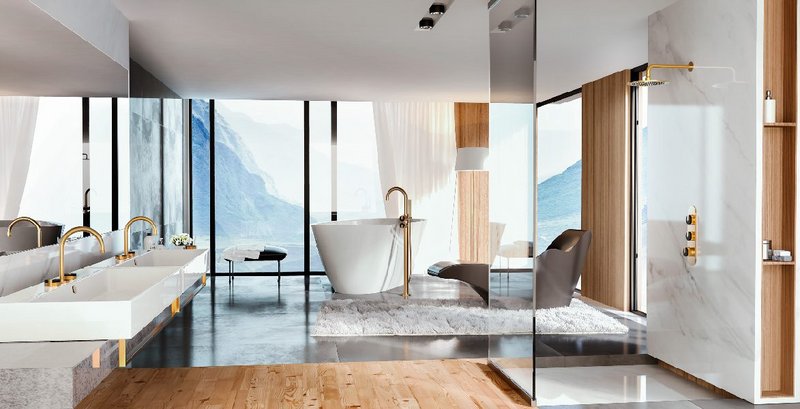 Graff Designs: seeing the bathroom as a source of wellbeing, tailored to maximise user comfort.
The challenges of Covid-19 have produced a demand for designs and products that foster wellness and wellbeing in the home.
People want their homes to be personalised, re-energising and enjoyable spaces they can retreat to.
According to US luxury bathroom manufacturer Graff Designs, bathroom trends are reflecting this, particularly the popularity of a wider range of brassware finishes.
Graff Designs' hand-crafted artisan brassware finishes can be used as part of a fully personalised bathroom design solution.
Its MOD+ collection of brassware offers a broad range of customisation options beyond standard chrome, black and white and hands designers more creative freedom.
5 reasons to specify Graff Designs MOD+ collection
Luxury custom finishes, materials and configurations in more than 63,000 possible combinations.
55 bathroom products for the washbasin, bathtub and shower areas in which each element can be completely customised.
Personalisation options including handle detailing, finishes, materials, spout size and mounting type.
Online tool the MOD+ Collection Configurator helps users choose from 20 unique finishes, including Gunmetal, Matt White and Vintage Brushed Brass.
Handle materials include variations of Tuscan marble, such as Storm Black, Forest Green and Smoky White.
According to Graff Designs, metal finishes provide a sense of warmth and luminosity that is eternally appealing in a bath space.
From gold and rose gold to brass, chrome and nickel, luxurious and sustainable metal finishes remain popular choices.
PVD options include the warm, gleaming tones and rosy blush of OR'osa PVD and Brushed OR'osa PVD. Deep powder-coated Olive Bronze is versatile enough to harmonise with both traditional and modern styles.
Whatever the Graff Designs options you specify, the result is a bathroom of superior quality, customised to meet individual client design needs and preferences.
For more information and technical support, visit graff-designs.com
Contact:
Graff Europe, +39 0559332115
delia.lakwera@graff-designs.com
---