New scheme offers full supply chain accountability for compliant products, from initial production and testing to ongoing future maintenance. Sign up for the webinar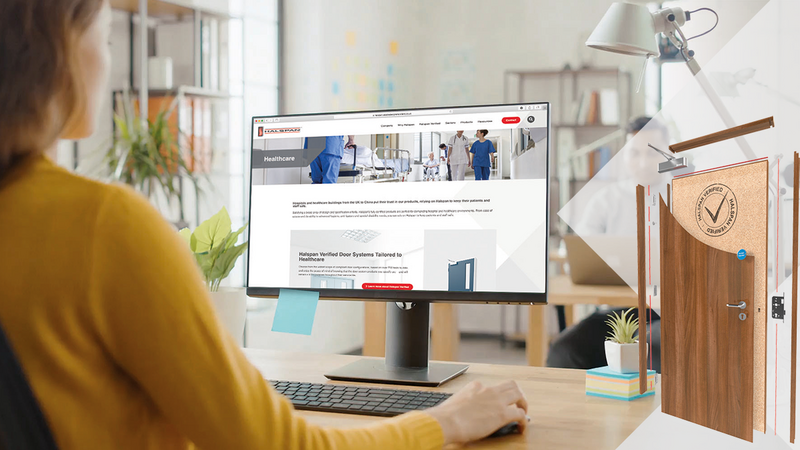 Halspan and healthcare: Helping to meet hygiene, anti-ligature and disability needs.
Halspan, the leading supplier of quality door components worldwide, has launched a new quality assurance scheme called Halspan Verified in response to the Building a Safer Future review.
The scheme is designed to ensure consistently high standards are met throughout the entire door supply chain, driving compliance, providing peace of mind and improving building safety.
It offers a joined-up approach to regulatory compliance with all the partners in a supply chain taking accountability for the delivery of compliant quality doors. Halspan Verified ensures every stage is compliant, from production, testing and specification to fabrication, installation, inspection and ongoing maintenance.
Halspan Verified provides:
A complete system of quality door components (including door blanks and cores, essential hardware and seals), all manufactured to the highest standards and tested together to ensure compliance, and all supplied from one source.
A wide choice of door configuration options - specifiers can choose from a range of existing exemplar Halspan Verified door systems configured to their exact specifications or can customise their own Halspan Verified door system using Halspan's Product Selector tool.
Customised specifications in NBS and generic formats, CAD detailing, BIM models and other supporting literature resources, making specification easy.
Expert guidance on how to fabricate doors and install and maintain doorsets and door assemblies correctly in a way that ensures compliance.
Fabrication, installation and inspection/maintenance training from technical experts.
Complementing existing third-party certification, Halspan Verified sets a new quality standard for door supply chains, both now and in the future, with an ongoing test programme designed to satisfy and exceed the changing demands of regulatory bodies worldwide.
How it works
Every Halspan Verified door blank or core is fitted with a unique Halspan Smart Tag identification chip at the factory, which stays with it throughout its service life. By scanning the chip using the Halspan Tracker app on a smart device, each particular door system can be identified.
A record of each Halspan Smart Tag is kept on Halspan Tracker, an online asset management system that everyone in the door supply chain can access.
As the door system advances through the supply chain, information is gathered at every stage of its fabrication, installation and ongoing maintenance, building up a complete picture of its quality assurance journey, from cradle to grave.
All the information collected is held in the cloud where it can be accessed for verification purposes or added to at any time, by logging into a secure account.
Halspan Tracker is intuitive and easy to use, but Halspan's technical experts are also on hand to help with specifying the right products or fabricating and installing them in a way that ensures compliance. Specialist training is also available for fabricators, installers and inspectors through the Halspan Tractus training programme.
Halspan Smart Tags can also be retrofitted to existing doorsets and door assemblies, extending the benefits. This allows the Halspan Tracker door management system to build up quality assurance records for all door assets, helping to maintain compliance and providing peace of mind.
The Halspan Tracker app works with both Android and Apple, providing maximum flexibility. The app can store information offline if there's no internet connection on site and uploads it to the door management system.
A guarantee of quality doors you can trust
Halspan Verified is a key contributor to improved fire safety in buildings, providing real time verification of every stage in the door supply chain and offers a guarantee of compliant quality doors.
For more information on the quality assurance scheme, register for the Halspan Verified Webinar on Wednesday 31 March 2021 at 10.30am by visiting halspan.com/webinars. Further dates will be available. Please check the website for details.
For more information and technical support, visit halspan.com
Contact:
0330 056 3836
---