Institute puts independent oversight, materials, sprinklers and escape systems at the top of its fire regulation submission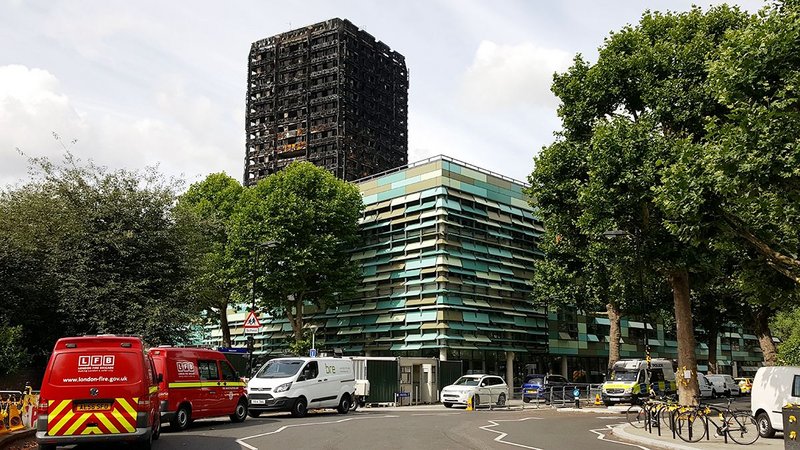 Credit: Isabelle Priest
In the wake of the Grenfell Tower fire, the RIBA has submitted its evidence and recommendations to the Independent Review of Building Regulations and Fire Safety, led by Dame Judith Hackitt.
Recommendations set out in the submission include:
Repeal of The Regulatory Reform (Fire Safety) Order 2005, under which building owners undertake their own fire risk assessment, and the re-introduction of mandatory Fire Certificates for designated premises.
Removal of the desk-top study approach to demonstrating compliance with Building Regulation B4.
Introduction of requirements for sprinklers/automatic fire suppression systems in all new and converted residential buildings.
Introduction of a requirement for more than one means of vertical escape from new multiple occupancy residential buildings of more than three storeys in height.
Development of clearer, prescriptive and design process driven guidance in Approved Document B.
External walls of buildings over 18m in height to be constructed of non-combustible (European class A1) materials only.
For new refurbishment projects involving 'material alterations' to high-rise, multiple occupancy, residential buildings, the retro-fitting of central fire alarm systems and sprinklers/automatic fire suppression systems should be mandatory.
The RIBA has proposed that the Independent Review of Building Regulations and Fire Safety should also give significant consideration to the impact of procurement decisions and allocation of project responsibilities on project quality and safety, and to the role of clients in ensuring independent scrutiny of construction work. The Institute's response has been developed by the RIBA Expert Advisory Group on Fire Safety, established by RIBA Council following the Grenfell Tower fire.
Adrian Dobson, RIBA executive director members, said: 'It's vital that the voice of architects influences the reforms needed to the Building Regulation and procurement processes that affect the life safety of building users. Architects have a significant role to play in ensuring health, safety and wellbeing in buildings, and we need regulatory guidance and oversight systems that support this as effectively as possible.'
In its response to the Independent Review, the Association of British Insurers has also called for major reforms, including the suggestion that there should be an immediate end to the use of combustible materials on the outside of all new and refurbished buildings and limitations on the use of combustible material on the inside.