All the worktops in a new addition in north London are made from an easy-to-clean solid surface composite resistant to dirt, viruses and bacteria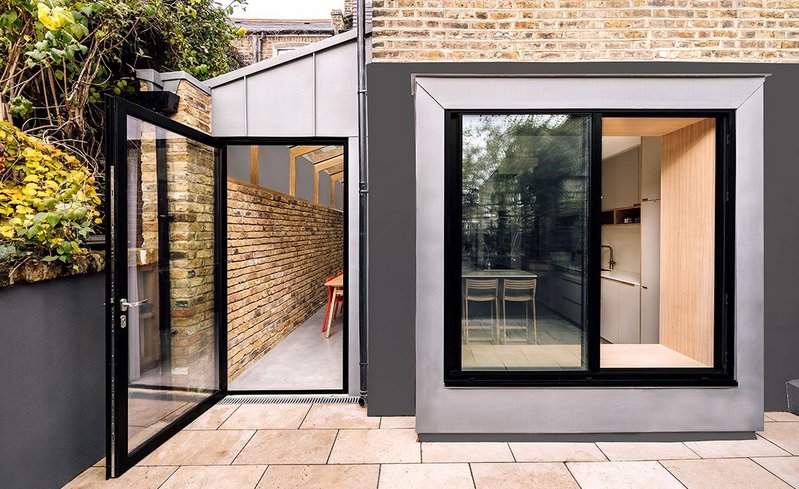 The Stoke Newington kitchen extension: 'We requested something modern and more creative than the standard side returns you see in the area,' say the clients. 'We now have a raised window with seat, oak beams, polished concrete and exposed brick.'

Credit: Gautier Houba
Material Works Architecture and kitchen designer Voeg have joined forces to create a light-filled, contemporary kitchen extension featuring Hi-Macs composite worksurfaces at a Victorian terraced house in Stoke Newington, north London.
With a limited budget and limited space for extending the challenge was to transform the existing dark and cramped kitchen into a bright, open space that would cater to the needs of a growing family.
To achieve this an extensive rooflight was installed as part of the new addition and the rear wall was opened up with large sliding doors above a new window seat.
Careful co-ordination of the restricted space freed up room for a dining table and a kitchen island, topped with a Hi-Macs worksurface.
A polished concrete floor was offset by the use of natural oak for the window seat and rooflight joist supports, which helped create a practical, contemporary look with a welcoming feel.
The contemporary handleless kitchen units are complemented by Ivory White Hi-Macs worktops, which were chosen for their sleek, attractive finish. Hi-Macs was also chosen for the full-size splashback behind the sink and preparation area where it adds to the feeling of spaciousness and calm.
Hi-Macs is a solid surface composite material made from acrylic, minerals and natural pigments.
'It is resistant to dirt, viruses, bacteria and numerous chemical agents,' explains Martin Saxby, country manager at LX Hausys Europe. 'And the current health emergency reminds us how important hygiene and cleanliness are.'
Non-porous and easy to clean with just a wipe of a damp cloth, Hi-Macs can be seamlessly joined so there are no cracks for dirt and germs to linger. It comes with a 15-year guarantee when installed by a member of the Hi-Macs Quality Club.
Hi-Macs is the perfect material for wallcoverings, furniture, worksurfaces and other applications where hygiene really counts.
For more information and technical support, visit himacs.eu
Contact:
01732 897820
---