The workable, hard-as-stone solid surface composite with no visible joints has been used to create a 'monolithic' stairway at the headquarters of French insurance firm CMMA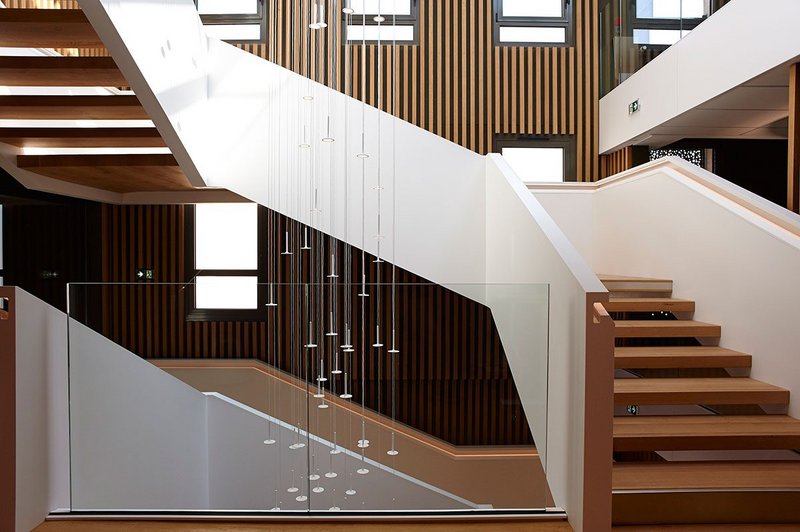 Staircase in oak and HI-MACS solid surface material at the CMMA building in Châlons-en-Champagne, France.

Credit: Eric Vanden
Last year architects Patrick Planchon and Franck Deroche were commissioned to work on the restoration of French insurance company CMMA's headquarters in Châlons-en-Champagne. Central to the project was the construction of a staircase.
The client's specifications were simple: an atrium staircase that would become the backbone of the building, something that would symbolise the dependability and solidarity associated with a mutual insurance company.
Planchon and Deroche tested various materials before settling on HI-MACS - the solid surface composite made from acrylic, minerals and natural pigments. It stood out for its performance and its ability to embody a monolithic look without visible joints. While solid as stone, it can be worked like wood, which allowed fine woodworker Landry Gobert to shape it to the architects' designs. HI-MACS is also easy to integrate with natural materials such as oak in high-end projects.
According to Planchon, the finished staircase offers 'a combination of elegant mass and firm airiness'. It occupies the space like a sculpture, with the various offices and reception areas wrapping around it over three storeys.
Stairs and landings have been covered with wooden slat panelling attached to a metal frame. The wood, varnished oak with a matt finish, is an extension of the ground-floor parquet, a touch that extends warming tones up and out to all floors.
Staircase railings are clad with 12-mm bonded Alpine White HI-MACS panels. A handrail aligns with the inner side and includes recessed joints and lighting fitted at a 60-degree angle to illuminate that part of the rail held by visitors.
Every room and space in the building has been designed to reference back to the staircase with a careful mix of warm tones, from natural wood shades, the grey/browns of the wall cladding and the deep red of the furniture and decor - all offset by the immaculate white of the HI-MACS.
The solid surface material has also been used to make four modular conference tables and consoles in the CMMA board room and desks and slat panelling for the various workspaces.
HI-MACS can be moulded into any shape and has a smooth, non-porous and visually seamless surface that offers many advantages over conventional materials. It is widely used for architectural and interior applications, such as sculptural and high performance wall-cladding or kitchen, bathroom and furniture surfaces, in commercial, residential and public space projects.
For more information and technical support, visit himacs.eu
Contact:
01732 897820