Bespoke furniture made from a seamless, thermoformable solid surface material is the sculptural centrepiece of this Manchester fit out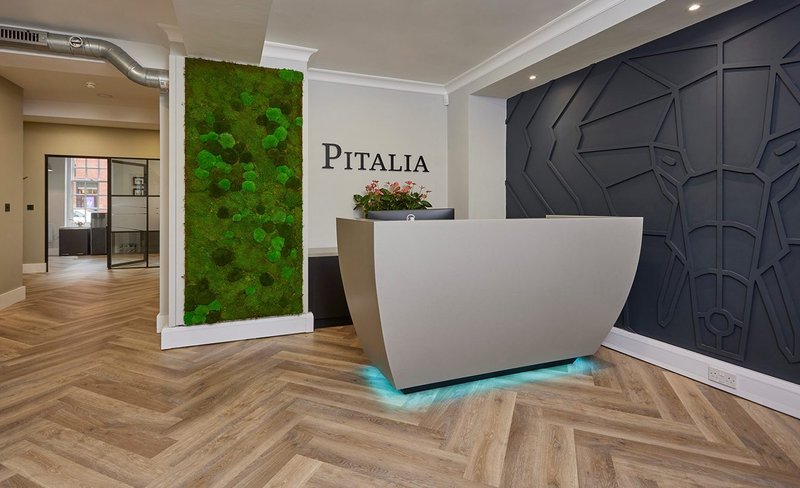 Pitalia real estate investment in Manchester. The reception desk is made from HIMACS solid surface material, an acrylic/mineral composite with natural pigments.

Credit: © Nick Freeman, 246 Photography
Real estate investment company Pitalia has relocated its headquarters from Bolton in Lancashire to Oxford Court in Manchester city centre.
The 3,200 square foot office is set over three floors and occupies a prime location ideal for the company to develop its portfolio.
The client wanted the reception desk to be the sculptural centrepiece of the new business HQ so it needed to have instant wow factor.
Designers and fabricators Gresham Office Furniture selected HIMACS solid surface material in Steel Concrete G555 for the desk and the top of the credenza unit behind it.
The designers were impressed with the product's robustness and the choice of on-trend colours.
Part of the Himacs Concrete Collection, Steel Concrete is available in 6mm, 9mm and 12mm thicknesses and offers a sleek, contemporary look and feel.
Working closely with the client, Gresham also designed the storage solutions, boardroom tables and seating.
5 reasons to specify Himacs solid surface material
Robust and fire resistant, hygienic and resistant to wear and tear, scratches, stains and UV rays.
Non-porous surface makes it quick and easy to clean.
Thermoformable properties allow it to be moulded into any shape and size, perfect for creating reception areas and surfaces.
Absence of visible seams ensures a smooth, seamless look that prevents dirt, bacteria and viruses building up on the surface.
Guaranteed by certifications that comply with LGA, Greenguard and NSF international standards.
Due to its flexibility and special characteristics, Himacs is the ideal application for business premises, offices and headquarters.
Find more on this case study at lxhausys.com/himacs-pitalia-manchester