Practices reflect their creative brand and professional ethos in their working environments. Be sure that the products and equipment you select showcase your design skills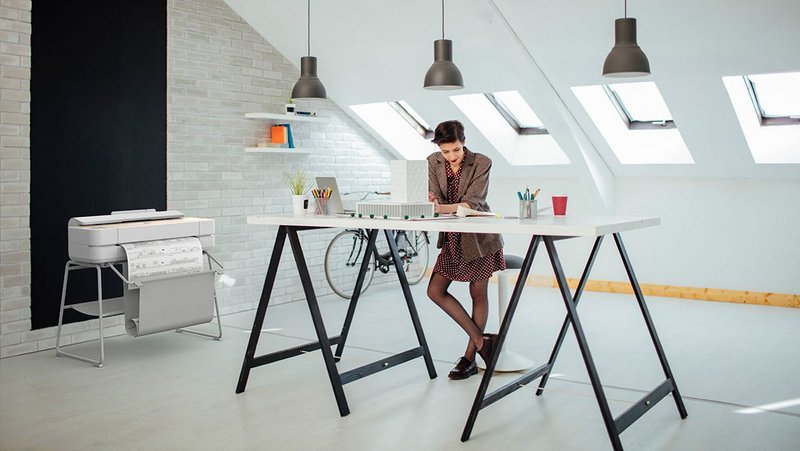 Everything in the office is an advertisement for an architect's creative design skills.
The offices of design professionals such as architects, engineers and product designers are extensions of their brand identity and professional ethos.
And when the office is an advertisement for a creative brand, it is important that every item in it fits that design ethos.
The importance of aesthetics in design-led businesses
Most clients expect the workspaces of their creative agencies and professionals - whether minimalist offices or bare-brick loft spaces - to reflect their design skills.
The growing prominence of disciplines such as design-led thinking makes it important for architects to live up to their clients' aesthetic expectations: it's a matter of branding and brand advertising.
A new range of printers created for design professionals
The HP DesignJet Studio Printer Series is a collection of the world's first large-format plotters that combine industry-leading performance, precision and quality with a high-concept design and a hi-tech look.
The printers are compact by design and available in two models - 24 inch and 36 inch - so they can easily fit into smaller workspaces and home offices.
Able to print an A1 page in as little as 25 seconds, the new printers are the first carbon-neutral large format plotters from HP. The company is reducing the carbon footprint of printing through carbon reduction initiatives, such as energy efficiency, reduced packaging and the use of recycled plastics.
With its DesignJet Studio Printer Series, HP has offset the remaining carbon impact due to raw material extraction and processing, printer manufacturing and transportation, as well as electricity, paper and cartridge use, in accordance with The CarbonNeutral Protocol.
The design simplicity of the HP DesignJet Studio Printer Series extends to the user experience, with a streamlined and intuitive print process. Print multiple files with a single click and print files to different paper sizes without having to manually change the settings thanks to new auto-sensing media-handling features.
The capabaility to print from any connected device, anywhere, makes the printers ideal for creative firms where practitioners are often working on the move, between the studio, work sites, clients and other locations. Amend designs on site, print on the go and pick up the files when you are in the office.
The HP DesignJet Studio Printer Series has a wood and steel finish that fits perfectly with the modern design aesthetic of contemporary creative workplaces. It is intelligent, highly efficient, sustainable and its radical simplicity helps design professionals make the most of their time by simplifying their working practices.
For more information and technical support, visit hp.com/uk-en
Contact:
Colin Easton, large format printing channel manager at HP UK
07760 201283
---