Practices need technology that is adaptable, secure and sustainable enough to flex around ever-evolving business needs and lifestyles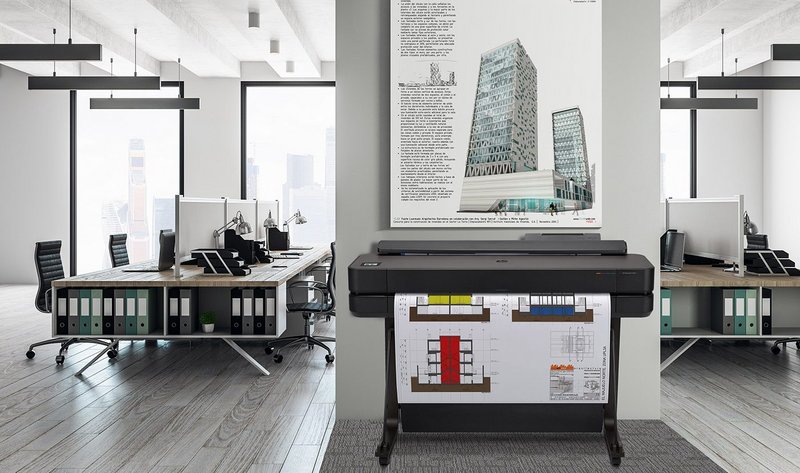 A new era of work: The HP DesignJet Series is designed for collaboration to help architects design and build a better future.
Architects and designers need innovations that make their working lives easier and more productive, while reducing operational costs.
Whatever the challenge, HP large format printers have the answer.
Ensuring seamless working
Integrating large format print seamlessly with the workflows and lifestyles of architecture, engineering and construction (AEC) professionals helps to build flexibility into work/life infrastructure.
HP Click software and the HP Smart App provide a seamless remote printing experience with A1-A3 automatic printing using the HP DesignJet T200, T600 series and Studio plotters.
Security built in
HP delivers a better printing experience to protect the ideas and people we value most. The most secure printers on the market, HP large format printers have embedded security designed to protect networks.
From HP Secure Boot and HP Trusted Platform Module (TPM) security on the inside to Role Based Access Control and Front Panel Access Lock on the outside, HP large format printers keep businesses safe.
Working sustainably
With environmental sustainability being a key strategic objective for today's businesses, the technology solutions they employ need to fulfil their sustainable agenda.
Fifty leading global AEC firms have agreed to pursue a strategy of zero CO2 emissions by 2040, with major carbon reduction goals for 2030.
HP's plotters are designed with the environment in mind, from printers made with less plastic and global recycling initiatives to cartridges made of recycled materials and water-based inks. Original HP ink cartridges and printheads can be recycled through the HP Planet Partners programme for free.
Quality as standard
HP's DesignJet and PageWide XL large-scale printer families are ideal for offices or workspaces of any size. They are robust, fast and agile.
They enable individuals or teams to produce large-format plans, CAD drawings and renderings with more line accuracy and colour representation (gamut) than competitors, while synchronising with modern BIM software.
HP's innovations allow architects and designers to maintain productivity, collaboration and relationships with team members, enabling them to work more sustainably and effectively.