Low maintenance, water-saving taps and sanitaryware help facilities managers control running costs, while specifying from a single supplier keeps fit-outs straightforward and less expensive for clients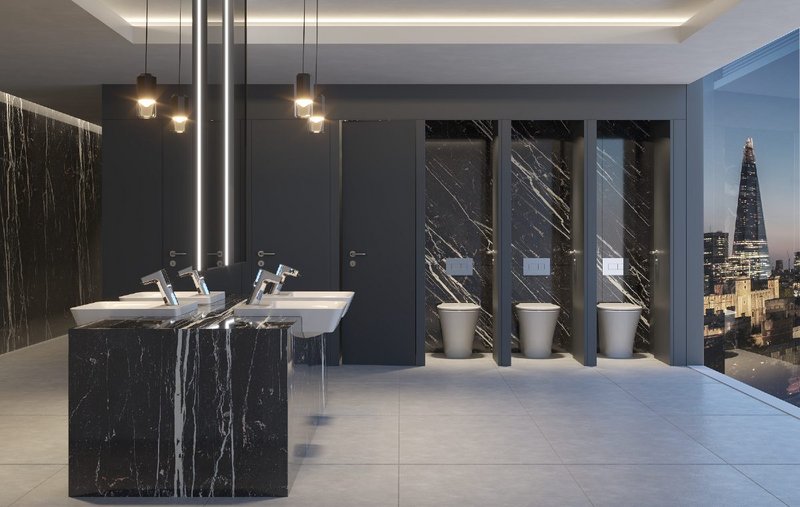 Ideal Standard Intellimix smart taps with Armitage Shanks Edit L basins, WCs and Oleas flush plates.
When architects and designers are specifying for a hotel, leisure facility, office or public space, a well designed washroom can be key to creating a long-lasting, positive impression for end users.
Alongside the particular needs of different building users, there's a lot to consider, including sustainability, hygiene and accessibility.
This can be a complex process with lots of moving parts to get right. Simplify things by opting for manufacturers that offer total washroom solutions, covering everything from showers and basins to mixers and furniture.
Working with a single manufacturer streamlines specification, with products designed to work in harmony, aesthetically and functionally.
Singular by Ideal Standard and Armitage Shanks offers a comprehensive end-to-end journey for architects and designers, with a near-infinite combination of award-winning products and solutions to combine.
This includes cutting edge technologies and products, from Sphero urinals to Intellimix smart taps, which can enhance the sustainability credentials of a washroom, as well as hygiene standards.
Ideal Standard and Armitage Shanks have created new Singular Solutions Sector Books for hotels and public spaces, as well as offices.
The books are full of useful information designed to help architects and designers create cohesive, functional, durable spaces with visual impact.
Focus on sustainability
Sustainability is a key area of focus for all architects and specifiers and the rise in energy bills means clients and facilities managers are looking for more ways to save on running costs.
Water-saving products can now be found in every aspect of bathroom design, from low-flow taps and dual-flush toilets to more efficient showers.
The innovative technology behind Ideal Standard's Intellimix smart tap and the Armitage Shanks Sphero urinal uses advanced sensors and systems to reduce water wastage and minimise costs.
Intellimix can be pre-set so a controlled amount of water and soap is dispensed with every use, reducing water usage by up to 85 per cent and soap by 80 per cent compared with traditional fittings.
Sphero's Smart Hybrid flush system offers better water efficiency than infrared solutions and can save up to 50,000 litres of water a year in high-traffic environments such as stadiums.
That means lower water bills for facilities managers and helps projects achieve their sustainability requirements, such as those set out by BREEAM.
Increase hygiene levels
Technology can be key to creating cleaner washrooms, too. Touchless smart taps, soap dispensers, flush plates and hand dryers all help to boost hygiene levels.
Intellimix combines touchless technology with innovative soap and water dispensing to ensure a more efficient and effective handwashing routine.
Maintenance can also be lower for touchless products. Intellimix requires less frequent and faster soap replacement than traditional dispensers and is easier to clean for a more hygienic space.
A carefully specified washroom provides many benefits for end-users and for facilities managers who are better able to meet sustainability goals while saving on water bills.
For more information and technical support, visit idealspec.co.uk
Contact:
01543 413204
---