An interactive brochure from Ideal Standard is helping specifiers design beautiful sustainable bathrooms in an era of exacting safety standards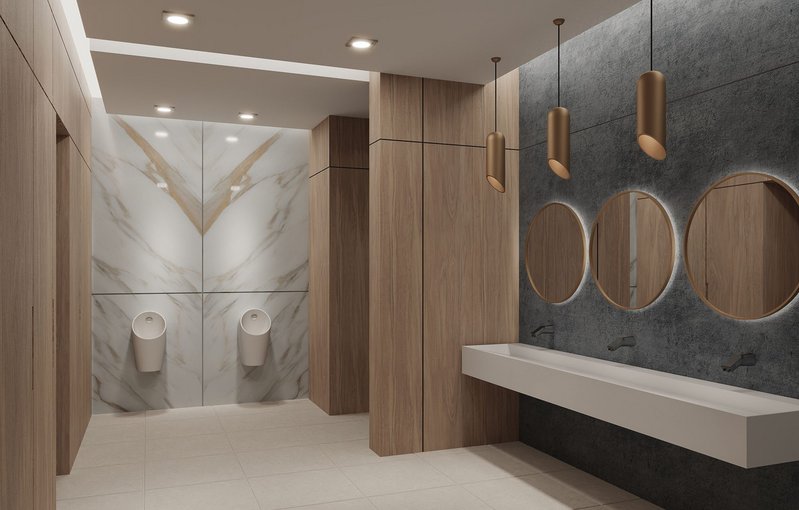 Ideal Standard Sphero Maxi E urinals with Silhouette 2,400mm Wash Trough and wall-mounted Intellimix basin mixers.
Bathroom and washroom solutions provider Ideal Standard has launched a new interactive washrooms brochure and solutions finder.
The tool allows architects and designers to input their requirements and instantly receive tailored information about which products will best suit a projects' needs.
The manufacturer's innovative, award-winning commercial ranges have been developed to give specifiers everything they need to create more hygienic spaces that are also sustainable, comfortable and elegant.
Whether used in large hotels, public buildings, high-end restaurants or office spaces, Ideal Standard's products will meet the daily, practical needs of the modern end-user in a post-pandemic world.
'People's expectations around hygiene have never been higher,' says Ideal Standard CEO Jan Peter Tewes. 'They need reassurance that the washrooms they visit meet the most exacting standards and we're delivering solutions that not only meet this need but do so beautifully, too.' It is what he calls 'Hygiene Redefined'.
'Our brands are led by experts in hygiene and design and have been for decades. By selecting from our award-winning portfolio, specifiers can create washrooms that exceed the expectations of every visitor.'
Over the past few years, Ideal Standard has brought various hygiene-led innovations to the market, most recently the innovative Intellimix touch-free tap that guarantees improved hygiene standards in public washrooms.
To learn more about which solutions are best suited for a washroom project, use Ideal Standard's new interactive washrooms brochure and solutions finder.
For more information and technical support, visit idealstandard.com
Contact:
01543 413204
---