Architectural Merit and Architectural Design prizes have both been won by projects featuring clay brick slip facades as the finishing layer of the EWI system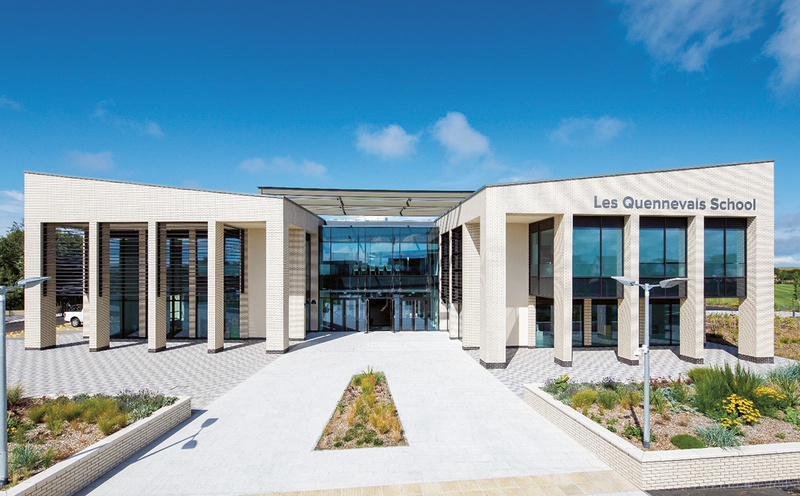 Wetherby Building Systems is proud winner of the INCA Architectural Merit Award.
INCA, the trade association for external wall insulation (EWI) system designers, component suppliers and installers, has announced the 2020 winners of its annual awards.
Technical standards and excellent workmanship are at the forefront of the INCA awards, which showcase the best in EWI.
The awards were presented in an online ceremony to members. The winning projects demonstrate the variety of schemes carried out in the new-build and refurbishment sectors and for residential, commercial and educational buildings.
What characterises this year's INCA awards, according the judging panel, is the uptake of brick finishes by architects and contractors as the finishing layer of the EWI system. Both the Architectural Merit and Architectural Design Awards were won by projects with clay brick slip facades.
Les Quennevais School in Jersey won the INCA Architectural Merit Award, a £38 million development to construct a school for the future using Wetherby Building Systems' EWI system. The 8,500m2 scheme is the largest brick building on the island and has created lots of visitor interest.
Specialist contractor Fox Contracts completed the installation and incorporated varying thicknesses of stone wool insulation fixed back to both blockwork and steel framing systems (SFS) to achieve a U-value of 0.30 W/m2K. The smooth white brick slips have created a desirable learning environment for generations to come.
Winner of the INCA Architectural Design Award was Globe Works in Birmingham with Alsecco as the EWI system designer and WSF Contracts Ltd the installer. This is a major student accommodation scheme in the iconic Gun Quarter and was planned with more than a nod to the area's industrial heritage.
Five linked blocks of five to 10 storeys were designed by Steve Ritchie Partnership and constructed using SFS with insulated infill panels. The facades were completed with Alsecco's Ecomin 400 clay brick slip system with two complementary brick slip colours and ceramic slips at many window details.
Different thicknesses of stone wool insulation were used to create different recess areas far more easily than could have been achieved with traditional brickwork, from which it is indistinguishable. The clean cut lines and coursing, and the accurately struck mortar joints, demonstrate the workmanship for which INCA members are renowned.
In keeping with schemes that have featured in previous years of the awards, the Cedars Development in Glasgow - three significantly sized residential blocks refurbished to ultra-low energy standards with the Sto StoTherm Mineral EWI system - was awarded a highly commended in the Architectural Merit category. Designed for longevity and ensuring critical fire performance, the StoLotusan surface will provide excellent protection against algae growth and staining. These blocks are now a striking feature on the Glasgow skyline.
EWI is a technology comprising insulation boards fixed to either masonry walls in a refurbishment setting or to the sheathing layer of new-build schemes employing steel framing or a concrete frame with SFS infill.
Beyond these common construction types, other less prominent building methods, such as timber frame, insulated concrete formwork and offsite construction, can also benefit from the use of EWI. Designers of EWI systems provide project-specific specifications outlining the adhesive and mechanical fixings of the insulation boards and the systems are finished with either high-grade decorative coatings or brick finishes.
For nearly 50 years in the UK, EWI has been popular for social housing refurbishment, but this background of treating the solid wall housing stock and non-traditional low and high-rise properties is now being matched by the use of EWI on new developments, such as large scale commercial and apartment projects.
As construction has gravitated towards faster, more energy-efficient and sustainable building methods, EWI has been able to incorporate suitable insulation types, simple design and construction without the need for cavities within the wall build-up and aesthetically pleasing finishes. As systems are tested and certified by bodies such as the BBA as complete systems, a specifier simply specifies the system in its entirety with all supporting data, such as U-value and wind loading performance provided by the system designer.
Using brick slips as part of an EWI system - rather than more traditional brickwork for a concrete or steel frame structure - is becoming increasingly popular. The benefits of adopting this construction method include far fewer bricks being delivered and stored, a simpler design negating the need for a cavity and an installation method that makes the wall watertight sooner. It can also be carried out in a flexible sequence to best suit the needs of the overall building programme.
For more information and technical support, visit inca-ltd.org.uk
Contact:
0330 124 6585
---