If you thought period homes and Passivhaus were incompatible, have a look at the Ecospheric's retrofit of two Victorian homes
From the front of the dwellings little has changed.

Credit: Rick Mccullagh
What: Period retrofit to Passivhaus standard
Where: Manchester
Over 100 palettes of materials insulation, crack-resistant graphene paint and the world's first passivhaus-approved stained glass were among the pioneering technologies used to transform two draughty Victorian townhouses in Manchester to Passivhaus-compliant homes.
The 125-year old semi-detached properties, newly renovated by property developer and environmental consultancy Ecospheric, need no central heating and, thanks to an 11kW photovoltaic array on the roof, produce more energy than they consume. This is expected to save occupants £5,000 a year in bills and maintenance.
Ecospheric managing director Kit Knowles told RIBAJ: 'We focused on the mantra "build tight, ventilate right", based on the use of a top quality mechanical ventilation and heat recovery (MVHR) unit to conserve energy at an extreme level. A lot of people fall in love with the charm of period properties then regret it during the first winter, especially when they see the energy bills, but that won't be an issue here.'
The Paul Novus 300 MVHR extracts warm moist air from the kitchen and bathrooms and recovers around 94% of the heat to warm incoming fresh air. Passive cooling is provided by a thermostatically controlled roof light with rain sensor, by Fakro. The PV array powers a Mixergy hot water tank with a thermocline control that only heats the amount of water required, and reheats much faster than a regular tank.
Ecospheric took a multi-tiered approach to insulation, airtightness and the prevention of moisture build up. 'Health was a significant factor in design,' says Knowles. 'High or low humidity is linked to the growth of virus' bacteria and fungus causing conditions like rhinitis and asthma etc, so we tried to set the humidity of the internal environment at around 50%.'
Lime-based plasters and paints on the interiors act as a natural buffer to moisture and kill pathogens and mould. Graphene formulated paints prevent cracking and ensure airtightness. All the materials were selected to achieve a virtually petrochemical free building fabric.
The rear elevations of both properties are clad in Organowood, a 'pre-fossilised' timber resistant to rot and UV degradation. To retain the traditional front bay and boost its insulation without reducing internal space, the inner leaf of brickwork was stripped out and replaced with an insulating structure of timber cassettes filled with cellulose insulation (see panel). These were also used on the properties' side walls.
The triple glazed timber windows in the ­facade, including the stained glass units, have a low U-value of 0.68-0.72 W/(m²K).
As an exemplar, the two and a half year build was expensive, costing £450,000 per property on top of the £408,000 purchase price. But significant overspend experimenting with the roof, bay frontages and lime technologies could be cut if the project were done again, says Knowles. And despite the many interventions both homes managed to retain their period detail and floor space – internal walls moved inwards by only 50mm.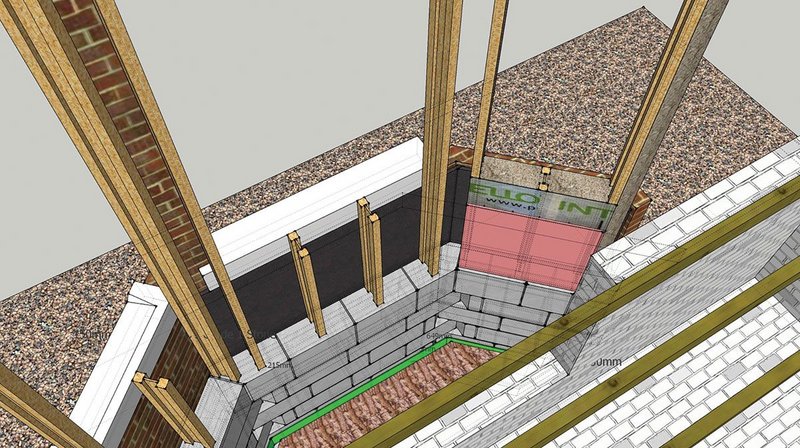 Once retrofitted, the inner walls encroached on room space by only 50mm.
Insulating the front bay
Victorian facades on the homes conceal an intricate insulated wall build-up based on an interlocking structure of timber cassettes.
These replace the original inner leaf of brickwork and are separated from the outer brickwork layer by a 38mm cavity. They comprise a series of vertical 45mm-wide I-joists with an interior surface of interlocking wood fibre boards, coated in lime plaster and graphene paint, and an outer surface of Magply magnesium boards.
'The Magply was something of a wonder material, strong and slim, waterproof to prevent water ingress from the porous bricks on the facade, yet also breathable,' says Knowles.
Cellulose insulation was blown into the cassettes before they were rendered to create highly insulated airtight modules. The end result was a high performance, natural, fully breathable solution that would also prevent cold bridging.