A carbon-neutral, bio-based industrial process is being used to upcycle sludge waste from paper mills for use as the main raw material in a new resin-free fibreboard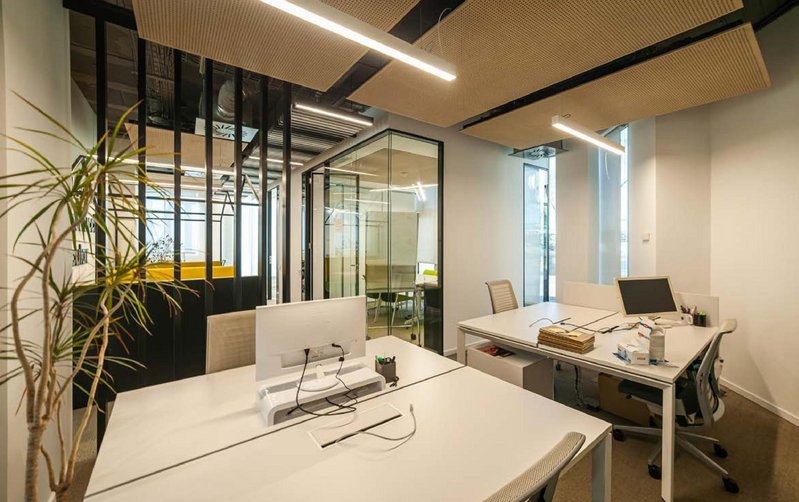 At Spanish construction firm Construcía, HONEXT panels were specified for suspended 'sound islands' and ceilings to improve the acoustics.
Independent materials distributor James Latham has become the only UK supplier of a recently launched innovative interior cladding material manufactured according to circular principles.
HONEXT is a carbon-neutral, 100 per cent recyclable, high-performance substrate cladding for commercial and residential interiors.
It is suitable for interior wall and ceiling linings and other non-loadbearing applications.
It was developed as the result of a collaboration between researchers at Universitat Politècnica de Catalunya and three generations of the entrepreneurial Barcelona-based Merino family.
The board is non-toxic, lightweight and made of the waste fibres and cellulose residue from the paper industry via a carbon-neutral and circular biotech process.
Honext is Cradle-to-Cradle Silver Certified, making it unique in its category, with benefits that extend beyond its upfront sustainable attributes.
It is a high-performance material with strong thermal conductivity, vapour permeability, resistance to moisture and optimal acoustic performance.
Honext panels have better sound absorption properties than traditional building materials, making them well suited to busy, noisy commercial environments.
The panels also promote better indoor air quality as they contain no added VOCs and are Material Health Silver certified.
Honext has helped deliver sustainable and cost-effective design solutions on a number of projects in the UK and continental Europe.
In a recent, high-end retail project the panels were used to replicate fluted concrete walls when the real thing would have been too heavy, unsustainable and costly for application in a commercial unit.
Honext sheets were bonded together and deep grooves were made and then painted, creating a lightweight, sound-absorbing wall that looks identical to fluted concrete.
Demand for the material is also growing in the commercial office sector, where its sound absorption capabilities are being harnessed by fit-out professionals.
In a recent workspace project for Spanish construction firm Construcía, Honext panels were specified for suspended 'sound islands' and ceilings to improve the interior acoustics.
More sustainable and easier to work than many other panelling materials, Honext can be shaped, painted, bonded and laminated, giving architects, designers and specifiers a greater degree of flexibility.
It is especially suited to retail fit-out, exhibition, set decoration and staging applications.
James Latham's role as the only UK supplier of Honext follows other recent initiatives, including its Carbon Calculator and Digital Showroom, and marks the latest step in the firm's bid to become the UK's most innovative and eco-friendly materials distributor.
Lathams directly supports the UK's specification community, helping built environment specialists meet every green layer of their design brief.
For more information and technical support, visit lathamtimber.co.uk/honext
Contact:
020 7288 6417
---