The six teams presented their entries to our panel of judges at the 'Pattern Off' in a studio in London's Southwark.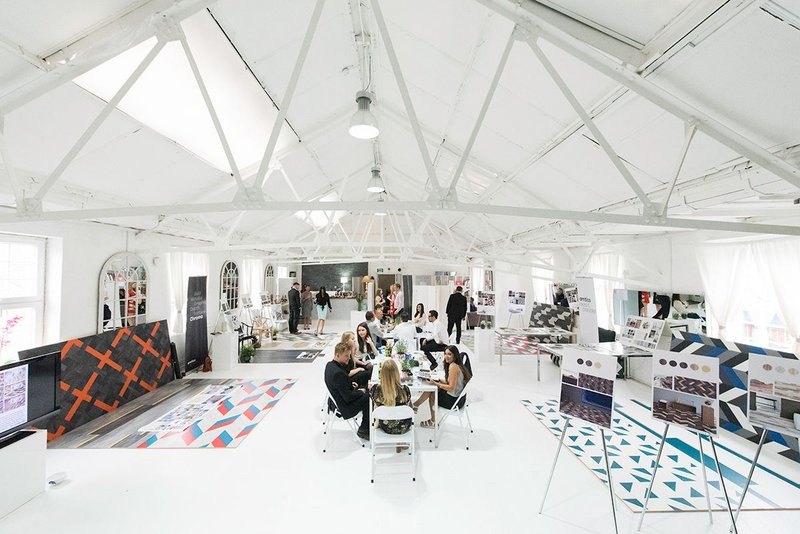 Teams presented their three final designs in a London studio in front of judges and fellow competitors.
The conclusion of the Amtico Design Challenge took the form of a grand 'Pattern Off', with the six finalists presenting their entries in the competition to produce the most creative appropriation of Amtico's Designers' Choice Luxury Vinyl Tiles as an extension of its Signature collection.
The deciding event took place in a studio in London's Southwark during the summer. Amtico had already whittled each entrant's six patterns down to three and had produced these as 2.4m by 1.2m display boards.
The format of the final was that each team had a strictly-monitored 10 minutes to present all three designs to the judges and other contestants before taking questions from the judges, who then proceeded around the space to the next contestant. After all six presentations, the judges retired to
confer, then returned to each team in turn to offer a short critique of their entries before announcing the winner.
Looking around the entries it was clear that the teams had gone to considerable effort to present their designs, which were accessorised variously with mini room-sets (TP Bennett) jars of hair and leaves (DLA Design) and even a live dog (WHAT_Architecture).
Several entrants drew inspiration from nature, with Moxon Architects exploring landscape formations and TP Bennett looking to air, water and sun. Place was another theme, with both DLA Design and Willmore Iles using characteristics of their respective home turfs of Clerkenwell in London and Bristol as springboards to generate the narrative and design of their patterns.
Cousins & Cousins instead took inspiration from encaustic tiles as its starting point while WHAT_Architecture challenged the parameters of the competition with a rather different interpretation of what constitutes a repeating pattern. Rather than produce just a conventional repeat, its entry was derived from a concept for one evolving design across the same laying pattern over a 20 by 20m area. The speculative aspiration was to offer a choice of options depending on which part of the laying pattern was chosen.
During the judging, there was discussion about timber-effect designs, in particular their use by entrants to effectively evoke other natural elements such as landscape formations, water or sun, which some judges found an interesting conundrum. Instead, the panel was rather more interested in patterns that combined Amtico products in a fresh and engaging way.
Several individual patterns caught judges' attention. Moxon's all wood-effect design was singled out for its softness. Cousins & Cousins was praised for being willing to take a risk with its Art Deco feel stepped pattern, which was considered fun and elegant. Willmore Iles' North Street pattern appealed to some judges for how it brought the idea of external urban space inside a building while David Kohn and Zoe Laughlin appreciated the depth of the woven tartan Queen's Square, which, she said, 'unlocked something about the material that we hadn't seen before'.
With its instantly engaging narrative, judges could imagine DLA Design's Clerkenwell collection being marketed commercially and having an appeal internationally. TP Bennett was praised for a very coherent presentation of its biophilia concept, which clearly explained the choice of laying pattern and products to create the sky, water and air narrative with useful illustrations of how the pattern could be implemented. Judges could imagine this easily fitting into the Amtico collection.
However, the panel instead decided to reward an entrant that took Amtico's collection in a different direction. The overwhelming winner was therefore WHAT_Architecture, which judges felt was successful and innovative in its ambition to give customers a choice of design harvested from one extensive and evolving pattern. Judges liked the playful nature of the entry coupled with its sophisticated design, in particular the variety of patterns found within the whole and the potential for asymmetry.
'The pattern successfully plays with readings of solid and void and 3D and flat… It takes something from the material without insisting on it being read in a certain way,' said David Kohn, adding that it was the only entry to make strong and contrasting use natural and abstract designs.
'It does weird, very interesting things to your eyes, which is quite compelling,' said Charles Holland of Ordinary Architecture about the Kite laying pattern version, adding that it would bring something quite different to the Amtico brochure.
'They've used the potential of the material to the maximum in terms of creativity,' said Flora Samuel, who also liked its nod towards digital customisation. Zoe Laughlin liked the entry's 'confidence and cohesiveness'.
Amtico head of product design and creative branding Lorna Williams pointed to the 'unexpected and challenging colour mix' that worked very well in practice.
'It's a new narrative for us,' she said, adding that such a confident mix of products really pushes the boundaries of the material. 'It's really exciting.'
The winning repeat design will be launched as a mini-collection, with royalties split between WHAT_Architecture and the RIBA Education Fund, which supports architecture students in financial difficulty.