The building material company's three Biogel products offer specifiers next generation fixing solutions for all surfaces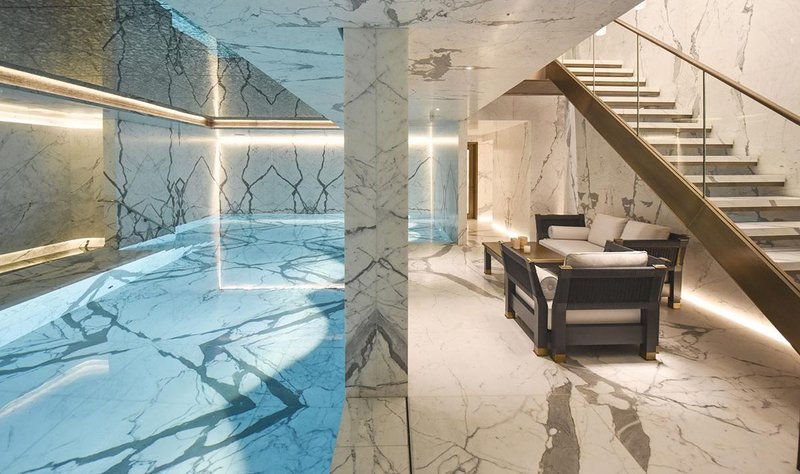 A pool and spa in the basement of a private residence in London where Biogel Extreme was used to fix Calacatta Oro marble slabs to metal with Biogel No Limits used elsewhere for the slabs, which were up to 1000x2000mm.
The Kerakoll research and development team has reinvented traditional adhesive formulations for its Biogel range.
Unlike most conventional cement- and epoxy resin-based adhesives on the market, the Biogel range is made up of only three products that cover all possible standard and rapid set substrate and material combinations, whether flexible or not, making specification easier.
Biogel No Limits (standard set C2TES1) and Biogel Revolution (rapid set C2FTES1) come in powder form. Biogel Extreme (R2) is a two-part hybrid gel.
Biogel No Limits and Biogel Revolution are thixotropic (they liquify when shaken), smooth and light at any thickness. They give an excellent bond and superior performance with no slippage. Both are formulated with low-environmental-impact resins that have excellent shear strength and allow the adhesives to stand up to stresses on the most deformable substrates.
When they developed Biogel Extreme, the research team at the Kerakoll GreenLab wanted to improve on standard reactive resin adhesives with a product that could be used for all internal and external tiling even on the most demanding substrates, such as uncured and cracked screeds, damp, deformable or highly expansive surfaces.
The hybrid gel adhesive bonds everything and has been tested under the most extreme working conditions, in temperatures ranging from -40°C to +110°C. The adhesive strength (4.5 N/mm2) is 500 per cent superior to a class C2 cement-based adhesive after 24 hours, and ten times more deformable (> 50mm) than a class S2 cement-based adhesive.
Biogel Extreme is easy to spread, being five times less viscous than a polyurethane adhesive. It achieves shear adhesion for porcelain tiles, after seven days, of 6.5 N/mm2 and tensile adhesion of 4.5 N/mm2 after 28 days.
Biogel Extreme harnesses the advantages of gel technology, such as greater workability, wettability, longer open, working and adjustment times, better adhesion and durability, and melds them with a polymer made up of different binding resins to create a hybrid that has the properties of both cement-based and reactive resin adhesives.
It is non-toxic and non-hazardous and made from solvent-free organic raw materials. Its carbon footprint is 7.98kg CO2 eq/m2.
For more information and technical support, visit kerakoll.com
Contact:
01772 456831
info@kerakoll.co.uk
Twitter @KerakollUK
Youtube Kerakoll Channel UK
Facebook @kerakolluk
---