Fugabella Color can be integrated into mosaic tiling designs or used to create the illusion of a continuous surface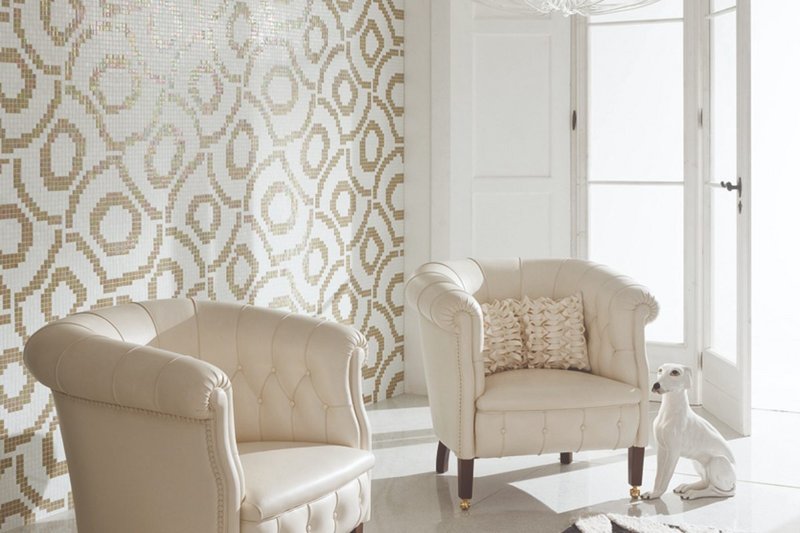 Pretty as a picture: Wall mosaic created using Kerakoll Fugabella Color grout.
Italian building materials manufacturer Kerakoll has joined forces with architect and designer Piero Lissoni to develop a range of 50 colours for its new resin-cement hybrid grout Fugabella Color.
The palette ranges from neutrals and pastels to rich, intense shades and can be used to create the illusion of a continuous surface or as an integral part of a design, for example in a mosaic installation. The intense pure colours eliminate the risk of salt and lime efflorescence formation and do not fade when exposed to UV light.
Fugabella Color is classified as CG2WA - an advanced cementitious grout with enhanced water resistance and antibacterial properties. However the formulation gives it performance values close to the standards set for reactive resin grouts (classified as RG) for abrasion resistance, colour uniformity and durability, water-repellence, stain resistance and ease of maintenance - without the additional cost and difficulty of application of RG grouts.
It can be used in a wide range of temperatures and environmental conditions internally and externally, so the same grout can be specified for everything, from grouting a bathroom or a pool to an external patio or industrial floor.
Fugabella Color is a green product with no risk labelling. Its formulation benefits the tiler, the building occupants and the environment. Rather than dangerous biocides, it harnesses natural bioactive substances to protect against mould and fungus. The grout's mix of natural binders and additives has very low VOC emissions, which can be a problem with RG grouts.
The purity of the materials and the use of natural additives provides reduced water absorption, lower levels of joint staining and protection from common acid pH substances. Its bonding system gives superior resistance to abrasion of 425mm³ after 72 hours compared with 970mm³ for a standard cementitious grout.
Fugabella Color is a highly durable grout that is safe and easy to use. It is suitable for porcelain tiles, ceramics, low thickness slabs and natural stone. A co-ordinating range of silicone sealants in the same colours is also available.
Always seek technical advice on the best product to specify for a project. Kerakoll's team can help with the specification process and is on hand to answer any queries.
For more information and technical support, visit kerakoll.com
Contact:
01772 456831
---