The flagship Oxford Street retail space features Lazenby installations over four floors, some using its new Architop product that can be laid as thin as 3mm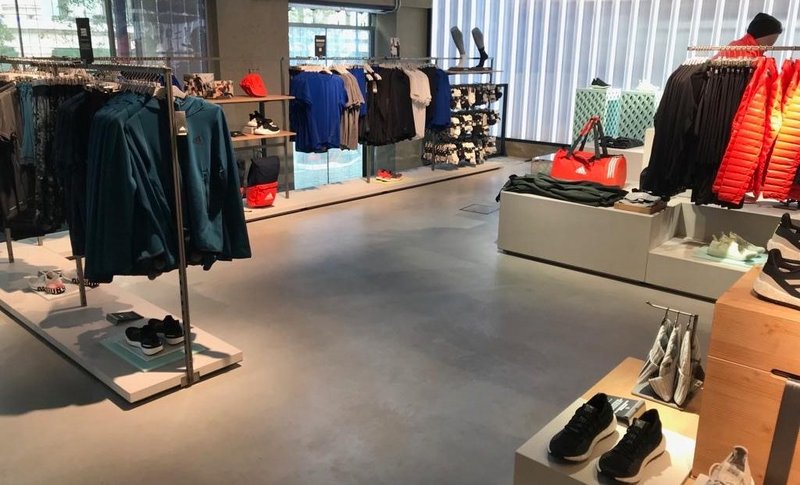 Lazenby Architop flooring at the Adidas store on London's Oxford Street.
Bespoke concrete specialist Lazenby has installed the newest product in its Architop range at a flagship retail space in London.
Concrete floors totalling 3000m2 were specified over four storeys at the Adidas store on Oxford Street. Architop was installed on the upper two floors and on the staircases, Dark Grey Polished Concrete in the basement and Diamond Polished Concrete with exposed aggregate at street level, creating a clean, industrial finish.
The company is currently working on re-creating the same look at the new Originals Adidas store in Foubert's Place, Soho.
Lazenby Polished Concrete flooring has a unique industrial look and is hand-crafted on site by expert craftsmen. Floors are installed at a depth of 100mm indoors or outdoors and a range of finishes are available.
Where depth is an issue on projects such as refurbishments and shop fits, a new product in Lazenby's Architop range can achieve the look of polished concrete while being laid as thin as 3mm.
The company's Terrazzo system is another versatile option that provides almost infinite aggregate and colour combinations and installs of between 3-30mm.
Every Lazenby flooring installation is hand-crafted, unique and designed for each individual environment.
Lazenby has provided superior flooring solutions for many established retailers. Renowned for its industry-leading innovations and exceptional service, the company's varied product range is suitable for a multitude of retail, commercial and residential projects and requirements.
For more information and technical support, visit: lazenby.co.uk
Contact:
01935 700306 (Sales - Option 1)
---