BIM is beginning to change the construction industry in the real world, it seems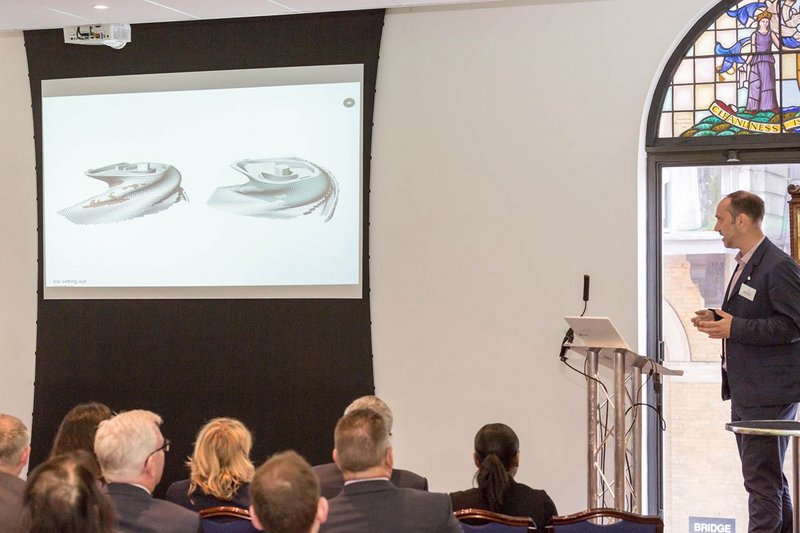 Stephen Melville of Format Engineers sees digital design possibilities in honing design, making it 'far more complex and useful'.

Credit: Duncan Smith
Staring from the Glazier's Hall windows at the view of London Bridge and stretching across to the towers of the City, I'm reminded of the crowds flowing through the 'Unreal City' of TS Eliot's The Wasteland. These themes are the touchstones of the Schueco/RIBA Journal London seminar on BIM and the wider role of technology and modern methods of construction. The audience confirms again that 'unreal' virtual building models not only have the ability to mimic reality for clients through the use of Oculus Rift, but can enable modification of the final building to optimise operational performance and facilities management.
And flows? Panel members drawn from across the consultant spectrum, and chaired by Hawkins\Brown director Nigel Ostime, made clear that BIM not only improves work streams but provides a whole way of understanding what a drawing is and the information it conveys. Yes, there's Autocad and Revit, but with algorithms and code increasingly used in building design, programmes such as Grasshopper are making drawings into flow diagrams – representations of processes rather than things; it's a new language the sector needs to understand.
Back in the real world of construction, it seems BIM is making inroads into changing the industry now. Chloe Obi, head of BIM implementation at Bouygues UK, which has implemented full BIM on over 30 projects, told the audience that the main driver for BIM take-up was increased profitability and added value for the client. Mostly that meant 'getting rid of design inefficiencies and mitigating risk, such as clash detection, preferably [by] using a federated file, before construction starts on site'. Initially driven by the government's 2011 Construction Strategy report which mandated Level 2 BIM, it's ongoing with, she added, 'a new validation tool this October enabling consultants to map project progress using a digital Plan of Works and the updated PAS1192-2 covering operational expenditure for public assets, COBIE and security elements.' Obi added that augmented and virtual reality tools, such as Oculus Rift, were being keenly picked up on by the contractor 'to win work, facilitate ideas and even help with on-site activities'.
Director of facilities management at the Ministry of Justice, Deborah Rowland also highlighted the importance of augmented reality from an FM point of view. She sees BIM's potential to inform FM strategies from Stage 0 through to Soft Landings as game-changing. Oculus Rift allowed stakeholders to affect design decisions from inception, potentially reducing operational costs. 'Information in the digital model gives us data accuracy when we tender for FM services… which helps with whole life cost reduction,' she said. And on building maintenance, she warned architects that lack of clarity about strategies plays into the hands of those seeking profit. 'Facilities managers like to play the role of victims,' Rowland noted. 'They and supply chains like ambiguity because they can charge more for their services.'
By contrast Linda Thiel, director at White Arkitekter, seemed more excited than concerned by the notion of ambiguity, thrilled by the design opportunities BIM presents to the industry – and architects. 'We need to embrace the tools to take ownership of the scheme,' she declared 'It's a collaborative process but we must lead. We also need to be smarter with the resources and technology allows us to do this,' she said. And the 'fuzzy space' BIM allowed us? That too is a site for design potential: 'In Grasshopper a line is not a border but a connection. Young architects read its flow charts like sheet music,' said Thiel.
Format Engineers director Stephen Melville looked at fuzziness differently, seeing how digital tools can quickly cut through vague initial design stages. 'Coding should be part of the conceptual design, allowing algorithms to create far more complex and useful design – say the relationship between structural holes and solar ingress,' he said. For Melville, the potential of BIM for architecture and engineering is almost limitless. 'It allows us to model complex behaviour very quickly – things that would have been impossible before.'
This was picked up by Oliver Hans, Schueco International senior product and innovation manager, who introduced the firm's new Parametric System, an attempt to use the potential of complex parametrics to create a simplified, standardised, component-based approach to cladding design that runs from initial design to final fabrication, saving time and money. It could be seen as a via media between specific BIM approaches for the industry now and the bewildering potential of digital technology.
Futurist Alvin Toffler, who died last month aged 87, once remarked: 'The illiterate of the 21st century will not be those who cannot read and write, but those who cannot learn, unlearn, and relearn.' That chimes with the panel's conclusion that upskilling the industry to embrace BIM's true potential will be one of its biggest challenges.
See Digital working: what's in it for us? and read reports from the Glasgow and Manchester seminars.
---