Debating the processes, risks and rewards of new ways of working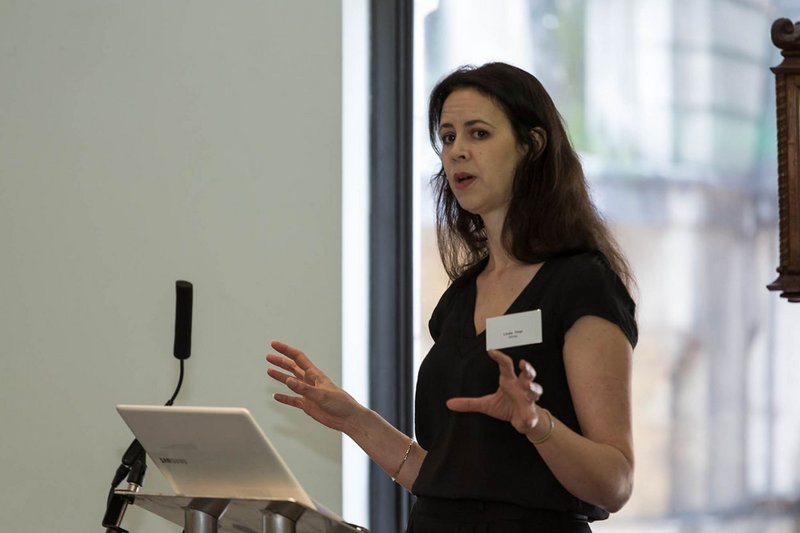 'We need to be frontrunners' – Linda Thiel, White Arkitekter.
By crane count Manchester is flourishing. The universities are investing, the science and tech industry alongside is growing, there are high profile commercial schemes like 2 St Peter's Square and plenty of housing going up. What part are digital technologies playing in all of this? We drew on experts from the North West to discuss how they are making the best use of digital technologies.
Appropriately, the seminar kicked off with the stations and connections that will ultimately bring the region closer together. BDP designed the transformation of Manchester Victoria and is in the process of linking it and Manchester Piccadilly Station for the first time with the Ordsall Chord. For project director Peter Jenkins, the value of digital technologies comes from designing into the projects how to build them. On Victoria Station the conservation approach produced an irregular structure. Using Bentley Systems, designs for 400 ETFE panels were generated, every one of them different. But 'it demonstrated the first lesson for using technology the right way,' said Jenkins. Everything looked good in 3D as you flew around the virtual model. 'But as soon as we had made the physical model we realised we had got it wrong.'
This reality check applies to buildability too. 'It is pointless if industry can't respond to it,' warned Jenkins. At both the station and Ordsall Chord the technology found the right home, with contractors Vector on ETFE and Severfield Watson on steel. This allowed a box section to morph into an I section, while also bending on plan. 'It was really complex… but you just press a button,' Jenkins said. He contrasted it to other materials. 'BIM is a swear word for concrete contractors.'
Frank McLeod, who in another world might be called a BIM manager but prefers the title head of project technology at WSP, admitted he hates the term BIM. Better a clear goal: that you are moving towards a virtual construction model. He brings to WSP an array of tools for exploring the design up front, including Spaces Allowances and SketchUp to quickly model a project and gaming technology such as Unity for immersion in the 3D world, via augmented reality. Then, as the design starts getting locked down, it transfers to one digital site and the technology focus moves to how changes are shared and logged, here using Huddle and KanbanFlow. Once the project is in production design BIM provides a single source of truth: very large, federated models. They throw up a huge amount of information: so avoid clash detection advises McLeod and look instead at search sets on clash to determine the larger areas that need concentration.
From contractor Laing O'Rourke Dirk Pittaway showed how digital technology has become critical to delivering major projects with its ability to turn three dimensions into four with a timeline. Manchester's Etihad Stadium never closed during its expansion by 13,000 seats; two million fans went through it during 42 home matches and it also hosted three sell-out One Direction concerts. 'We had to be sure we could do the exact work between matches,' Pittaway explains. The clarity of tasks in the model allowed for that, right down to the briefing of site operatives.
In situations like this much of the risk rests on the client's business. John Lorimer of the Construction Industry Training Board has spent much of his career as a client and was clear that 'every client is looking to exploit technology'. How they can look at data defines how valuable it is to them. But inevitably, it also leads to the question 'Shouldn't it be cheaper?'
Oliver Hans, senior product and innovation manager at Schueco International, set out how parametric facade design, at least, could be cheaper. A new 3D Parametric System that uses tubes allows a whole set of variable geometries, the calculations going right through the system with automatic workflow that can give folding 3D facades with an elegant aluminium feel and small nodes. It reduces design time by as much as 99% and means that once the design stage is complete and files have been imported to SchuCad Inventor, production can start within hours. It was satisfying to sit back and enjoy the impressive fruits of Schueco's labours without struggling to think about how to apply them in practice.
The ensuing debate concentrated on the processes, risks and rewards of new ways of working. Nathan Jones of Turner and Townsend wanted to know panel members' opinions on 5D modelling of cost and 6D on facilities management. McLeod was being asked for it but thought it 'foolish' to take rigorous quantities from a design intent model. 'It is more about trends. The question is "Are we on target?"' Saying that developments with a cost consultant have examined how costs might be visually managed with heat map reporting, AFL's Marcel Ridyard asked why costs were coming in at £2m more than estimated at every work stage, against initial hopes of BIM. 'We expected more accurate pricing early on,' he said, calling for earlier investment in the cost plan.
But why is construction at the bottom of the league table on efficiency? 'The construction industry is approximately 53% efficient,' replied McLeod, 'which means half of it is making good money from not embracing technology.' Pittany reminded the audience of the slow speed of construction: 'The cycle of learning is challenging: it's project by project and once you've started a project time stands still.' In the meantime the panel expected the costs of software itself to come down, with easier access and cloud subscriptions. This and the gradual gathering of confidence and knowledge in digital ways of working could, quite soon, result in projects with the digital equivalent of the design on napkins and unique component codes that talk to each other through one system.
See Digital working: what's in it for us? and read about the London and Glasgow seminars.
---