Architects Rogers Stirk Harbour + Partners' Centre Building brings social spaces and open squares to a university campus patched together from a 'morphology of crookedness'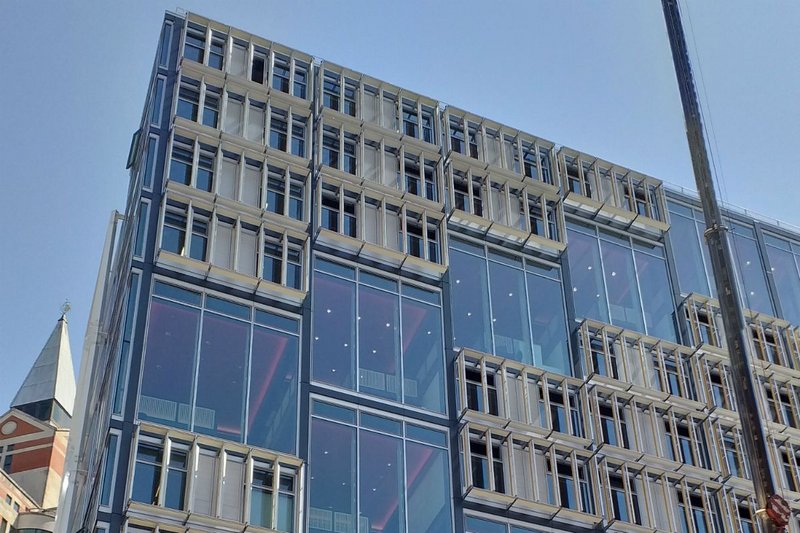 The massing of the new building consists of two deceptively simple and infinitely flexible steel-framed blocks joined by dynamic circulation and meeting spaces.
Into the London School of Economics, Rogers Stirk Harbour + Partners has inserted a shared space designed to lure students and staff out of their rooms.
A square. We all like squares, orderly places of public enjoyment, signs of civilised city-building, agents of urban harmony across the centuries. Architects especially like squares because they are both conspicuous symbols of a commitment to the public good and geometric figures. Architects like to do good and be seen to do good. Geometry is a tool of their trade. A square neatly wraps symbol and instrument up in one word and four lines.
QIC Trims worked extensively with the main contractor and specialist interior fit out contractor BDL to solve the complex solution of integrating perimeter details to house lighting and a specialist stretch ceiling over numerous floors and open space areas. The result on site in a vibrant red perfectly fits with the stylish modern decor.
The LSE, unusually among institutions of higher education, has had, until now, no squares. No quads, no courts either. It occupies instead a dense tissue of narrow streets squeezed between the semi-circle of the Aldwych, the rectangle of Lincoln's Inn Fields and the ramrod of Kingsway. As all available regular shapes have been used up by its neighbours, this world-famous seat of learning has patched its campus together from a morphology of crookedness, grown from spores seemingly scattered by a wonky 16th-century cottage in its midst on whose front large gothic letters wrongly proclaim it to have been the Old Curiosity Shop that inspired Charles Dickens.
Into this moderate disorder, RSHP architects Ivan Harbour, Tracy Meller and Andrew Morris have inserted two linked steel-framed blocks, one six storeys and the other 12, regular and mostly right-angled. Centre Building, as the project is called, contains lecture theatres, academic offices, meeting rooms and places to lure students to the campus away from their electronically connected bedrooms. Its stated aims are flexibility and communication, the breaking down of the silos into which academic life tends to sort itself.
Its success would partly be a function of the intensity of the campus: make a space and it will fill with life. It's also to do with the design of the building, the ways in which it celebrates upward movement and keeps returning views back towards its surroundings. Shared space becomes three-dimensional, multilayered and dynamic. It is reciprocal between inside and out and between older buildings and new. Centre Building won't make the same impression on the history books as the Pompidou Centre, but it taps its ancient energy, as if of some past cosmic explosion, to positive and thoughtful effect.
For more information and technical support, visit qic-trims.com
Contact:
07469 084960
---