Elegant LH-42 seating can be seen in many notable buildings, including Níall McLaughlin Architects' Master's Field pavilion at Balliol College, Oxford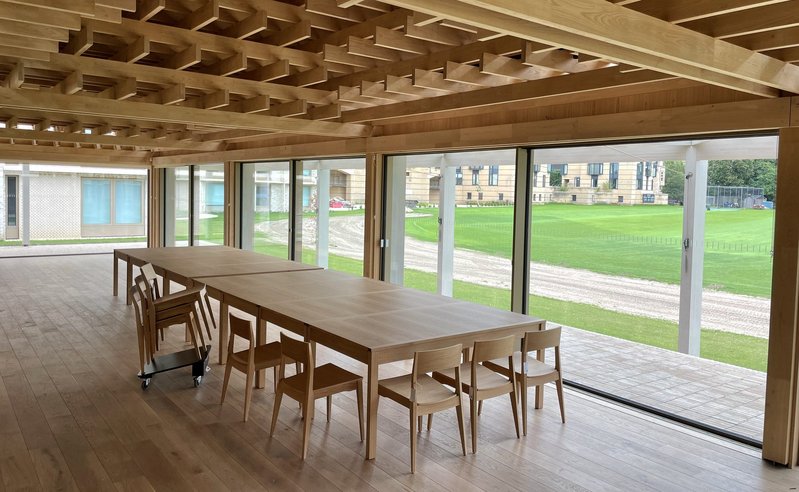 The pavilion's LH-42/01 chairs have a ply seat, stack up to eight tall and have been tested to withstand the rigours of everyday life in home, commercial and contract furniture environments.
The Master's Field pavilion sits at the social heart of Balliol College, Oxford. The contemporary multipurpose space is used for dining, socialising and observing the day's play.
Balliol College partnered with bespoke furniture designers Luke Hughes to provide a minimal and contemporary chair to complement Níall McLaughlin Architects' pavilion interior with its latticed oak ceiling.
A classic design was needed to embellish and articulate the architectural space and the versatile, stacking LH-42 was chosen for its perfect fit with the surroundings.
The chair has a compact solid oak frame and steam-curved backrest and is beautiful both singly and in a group.
The indoor-outdoor nature of the building requires furniture to be able to be moved quickly. LH-42 can be stacked up to eight tall, making it a practical and versatile choice that can be easily re-arranged, cleared away and stored.
The design has been specified in many flexible and demanding environments around the world, including restaurants, hotels, meeting and seminar rooms, event venues and commercial offices.
Over 40 years of design expertise has gone into making the LH-42 - the perfect chair for bustling environments. Each piece is made for a 30 to 50-year lifespan using responsibly sourced European Oak. Made to be refurbished, the timeless design is ready to be passed down through the generations.
It was originally commissioned for 76 Trinity Place in Manhattan and has been called 'fresh, versatile, robust and timeless - a design classic' by architects and designers.
Luke Hughes specialises in designing furniture in architecture, embodying the highest standards of British design, production and craftsmanship. Its design studio was founded as an arts and crafts furniture maker in Covent Garden in 1981.
For more information and technical support, visit lukehughes.co.uk
Contact:
0207 404 5995
---