COP26 climate change conference next autumn will showcase the housing unit built from treated British wood by a consortium aiming to manufacture engineered timber in Britain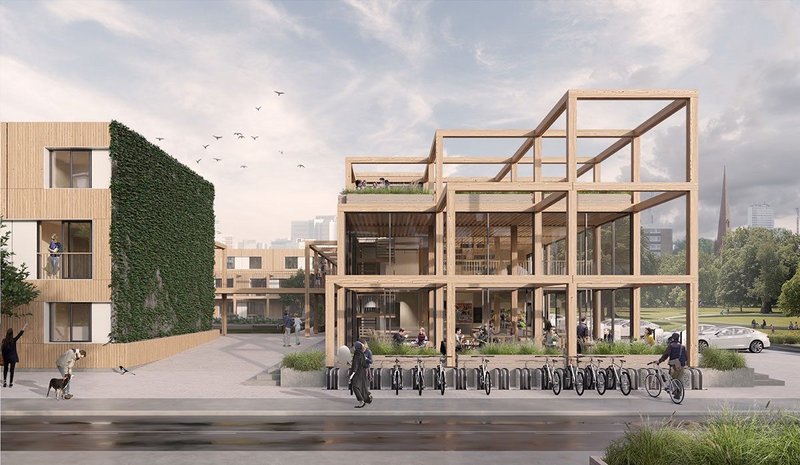 The demonstrator prototype could lay the groundwork for the creation of climate-positive communities like those being spearheaded by SNRG

Credit: SNRG
The first ever housing unit manufactured from homegrown UK timber will go on display at the COP26 conference on climate change next year, raising the prospect of mainstream cross-laminated timber (CLT) production in Scotland.
Led by the Construction Scotland Innovation Centre (CSIC) and funded by Innovate UK, the demonstrator project will produce a modular two storey, two bedroom duplex, comprising CLT walls, nail laminated timber floors and a glulam portal frame.
All elements of the superstructure will be manufactured by end of December using the UK's only vacuum press, at CSIC's 35,000ft2 innovation factory in Hamilton, and the finished building will be showcased at the postponed COP26 in Glasgow in November 2021.
The consortium of partners on the project, which include Edinburgh Napier University, the Centre for Offsite Construction and Innovative Structures (COCIS), Scottish Forestry, the Confederation of Forest Industries, and SNRG, an offshoot of energy company Centrica, aims to develop Britain's first engineered timber manufacturing plant in Scotland to reduce reliance on imported products.
Recent government statistics show that, in 2018, the UK was the world's second largest net importer of forest products, including timber, behind only China.
Sam Hart, innovation manager at CSIC, told RIBAJ: 'Research has proven that, with the right treatment and processing, our timber can be used for a wide variety of higher-value purposes beyond its relatively limited set of current applications ...Greater use of our natural and renewable resources will deliver a range of environmental, cost, and economic benefits for Scotland and the wider UK. COP26 is a once in a generation opportunity to showcase what can be achieved.'
The demonstrator builds on research, carried out by Edinburgh Napier and COCIS, proving the viability of using home-grown timber to produce mass timber products and systems, such as CLT, NLT, Glulam, and Dowel Laminated Timber.
Local timber is typically strength graded at C16, less than the C24 wood exploited in manufacturing plants on the continent. However studies showed that with the right treatment, C16 or C16+ – a newly developed strength grade – structural components suitable for a range of low rise building types can be manufactured. The COP26 demonstrator will feature full scale CLT panels measuring 12.5m by 3m.
Hart added: 'SNRG is involved in building courtyard-type developments, including three storey apartment blocks with around 100 apartments, and engineering that's gone into the timber we are using for this project would need to address that type of building typology.'
CSIC also investigated the commercialisation of mass timber, including material costs, demand and usage and current market conditions. This led to the formation of the Mass Timber Alliance in 2019, a group of around 25 stakeholders from the forestry sector including sawmills, engineers, designers, and processors, set up to spearhead local production.
'We were able to show sawmillers that the demand is out there and that it's worth investing in kiln drying processes to produce CLT with the correct moisture content,' said Hart. 'That means increased costs, but if you can get greater value out at the other end of the supply chain, it's definitely worth doing.'