Versatile and easy to fix and handle, the XPS product is an ideal insulation for use in a Fabric First approach to cutting energy consumption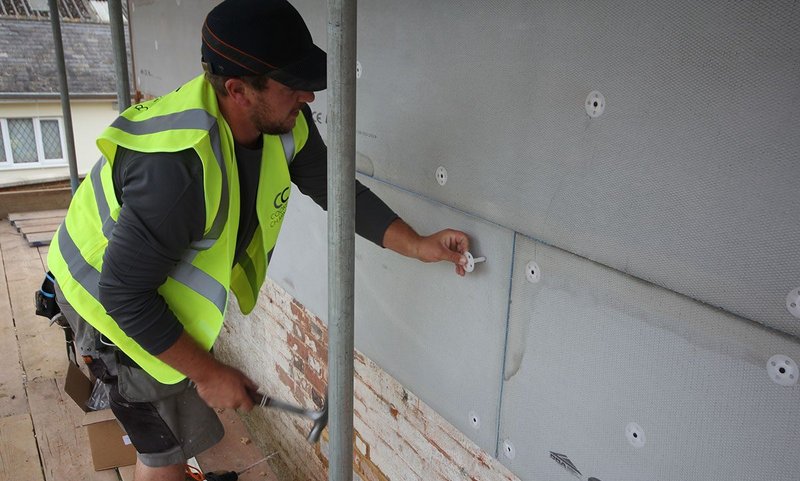 Marmox Multiboard offers multiple insulation benefits and energy savings.
Marmox has published a technical guide to its BBA-approved Multiboard insulation product, which is used for internal and external wall applications and in floor and roof build-ups.
The guide offers architects and specifiers an overview of the implications of the latest tightening of Part L Building Regulations - as well as the other relevant standards elsewhere around the country - and sets out the advantages of using the reinforced extruded polystyrene (XPS) product over alternatives.
UK housebuilders have long recognised the value of reduced thickness walling solutions, with a saving of a few inches per property translating into room for an extra unit by the end of a road.
Marmox Multiboard is often preferred over rival insulation boards because its glass fibre reinforced polymer concrete coating is extremely thin and strong. Unlike insulated plasterboard, almost the entire thickness of the board contributes to cutting heat loss.
At 0.034 W/mK, the thermal conductivity of extruded XPS may not be as efficient as some rigid insulation materials, but it excels on a wider range of benefits.
Unlike PIR or phenolic insulation, Multiboard's XPS core maintains its effectiveness when exposed to wet, while phenolic foam behaves as a thermal conductor when saturated.
Multiboard's concrete coating is sufficiently moisture absorbent to create a good bond with adhesives, mortar, render and other cement-based mixtures. It is ideal for wet rooms and swimming pool environments or as a wall board to carry render or exterior cladding finishes.
The product's lightness makes the boards easy to handle when lining walls or ceilings. It is suitable for fixing directly across substrates such as blockwork or old solid brickwork - rather than having to mount it on timber battens - reducing the risk of interstitial condensation.
Marmox Multiboard was recently used on a project in Hythe on the Kent coat. OSG Architecture worked with a self-builder to design a bespoke home using a structural insulated panels (SIP) system. The four-bedroom house steps down a steep site on Cliff Road.
The design features a mix of cladding finishes, including Rockpanel Uni and Marble Mosaics, and used 12.5mm-thick Multiboards behind cladding around the main entrance and across the inner face of a high-level balcony. The boards also went into the en-suite bathrooms as tile backer boards.
Marmox Multiboard was specified because of the elevated coastal position, which meant the boards had to be fully waterproof as well as compliant with fire regulations for exterior cladding use. Its lightness meant large sections were easy to cut and install on the demanding site.
For more information and technical support and to download the Marmox Multiboard Technical Guide, visit marmox.co.uk/multiboard
Contact:
01634 835290
---