The rooflight, glass-box picture window and sliding and pivoting doors on a contemporary extension pull light into the heart of a Victorian home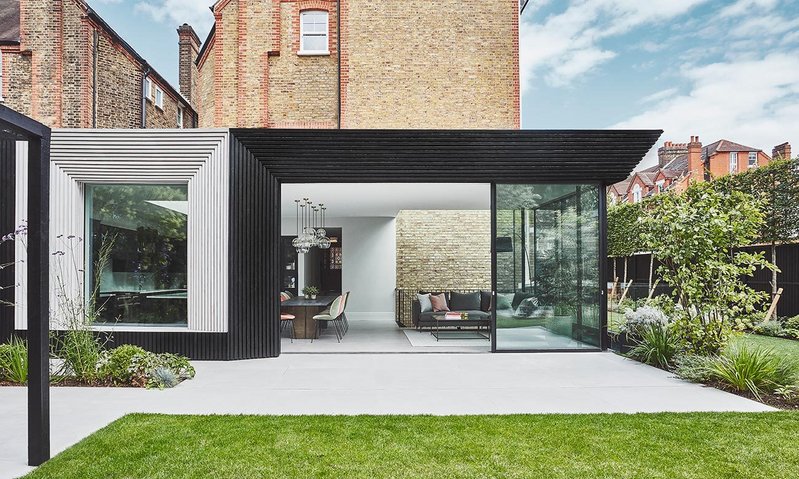 The JAAM-designed burnt-on-blonde Scottish larch clad extension frames a series of Maxlight glazing products. The external brick wall of the main building has been incorporated into the internal living space of the new extension.

Credit: 82mm Photography
London-based JAAM Architects prides itself on taking a collaborative and interdisciplinary approach and the creation and build of its latest refurbishment - a top-to-bottom redesign of a detached Victorian house in Wandsworth, south-west London, including overhauling an existing basement extension - was no exception.
Architects James Millar and Maurice Smith worked with luxury home specialists Mascot Bespoke, design-led kitchen and joinery studio Blakes London and boutique interior design practice Colour Interiors on the project.
Together, the team transformed a standard Victorian house into an expansive, sensitively designed family home.
A key component of the property's burnt larch timber-clad extension was the inclusion of several Maxlight products, including two sets of triple-sliding doors, a glass balustrade, fixed panels, a glass box and a large floor-to-ceiling pivot door.
One of the team's aims was to create a contemporary extension that would contrast with the original Victorian building while flooding light into the space and creating a sense of continuation. Maxlight's products - which are all designed to maximise space and bring the light in - were a natural fit.
'This was a highly co-ordinated and occasionally testing project,' explains Millar, 'so everything had to be accurate at all times. Maxlight's attention to detail is second to none and that was imperative as we worked on the build.'
Like many houses in the area, the original building was a characterful Victorian home, so it was important to the client that the basement extension blended with the existing space in an architecturally appropriate way.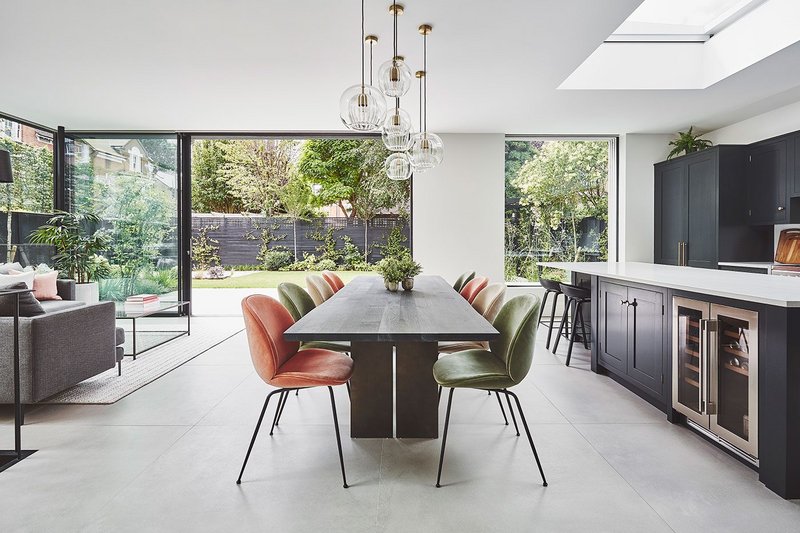 Floor-to-ceilling minimal framed glazing panels bring light and garden into lounging, dining and cooking spaces.

Credit: 82mm Photography
'External glazing - both vertical and horizontal - was one of the main ways we brought the new and existing areas together. We also wanted to open up the basement space and invite some of that outside light in, which has the effect of bringing the external facade into the existing building. In both cases Maxlight provided us the solution we needed - the products helped blend everything together.'
Maxlight products were also used within the main house, including a fixed rooflight in the kitchen and a picture window. This helped integrate the character of the original building with the more contemporary extension.
Today, the house is a fully functioning family home with extra living space, a sauna and indoor swimming pool. Yet all the character and history of the original house has been retained thanks to the creativity and design expertise of the teams involved - and several award-winning Maxlight products.
For more information and technical support, visit maxlight.co.uk

Contact:
020 8896 0700
sales@maxlight.co.uk
---