The Smith flexible workspace features a slimline barrier system in brushed stainless steel that is a subtle addition to a welcoming reception area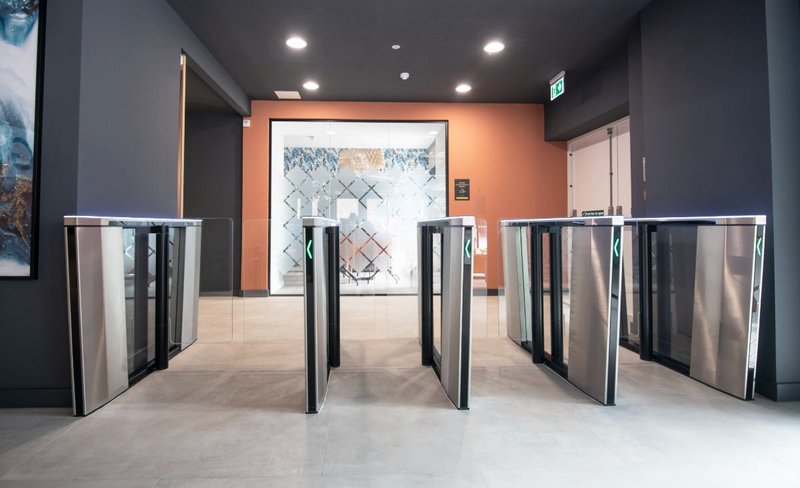 Meesons EasyGate Superb Speed Gates at The Smith, Kingston-upon-Thames. Three standard-width lanes and one EA-compliant wide access lane were specified.
The Smith is a 40,000sq ft commercial office development in Kingston-upon-Thames, south-west London.
It was completed in April 2021 and offers flexible workspaces for hybrid working with a mixture of lease types, including conventional leases, coworking, serviced offices and managed space.
This Grade A office refurbishment provides a welcoming feel and a healthy working environment with open-plan layouts and roof terraces, a contemporary reception area with a coffee lounge and space for breakout or informal meetings.
Designing a flexible and secure workplace
To control access to the building the developer specified Meesons EasyGate Speed Gates in the reception area between the entrance and lift lobby.
Meesons installed four EasyGate Superb Speed Gate lanes; three standard-width lanes and one EA-compliant wide access lane for people using wheelchairs.
The EasyGate Superb was selected for its slim, stylish cabinet and the brushed stainless steel finish to complement HCL Interiors' design scheme for the reception, lift lobby and the offices beyond.
The slimline shape allowed the maximum number of lanes to be fitted within the restricted space. The wider lane was positioned directly in front of the platform lift to improve the passage into the building for those in wheelchairs or with pushchairs or deliveries.
Specifying an unobtrusive design with high functionality
An EasyTouch LCD capacitive remote control console enables touch-of-a-button control of the Speed Gates from the reception desk on the lower level. The remote console helps to manage access to the building for clients and visitors.
A subtle illuminated top lid and passage lights provide intuitive lane guidance.
The Smith was designed with enhanced energy conservation provisions and the low power consumption of the Superb helped it hit this target.
Find more on this case study at meesons.com/case-studies/the-smith
Contact:
For more information about Meesons entrance control products, fill in the enquiry form at meesons.com
---