An updated turnstile specification at the 40 Bank Street offices includes integrated anti-climb detection and low-level HID card readers - all in keeping with a refurbished reception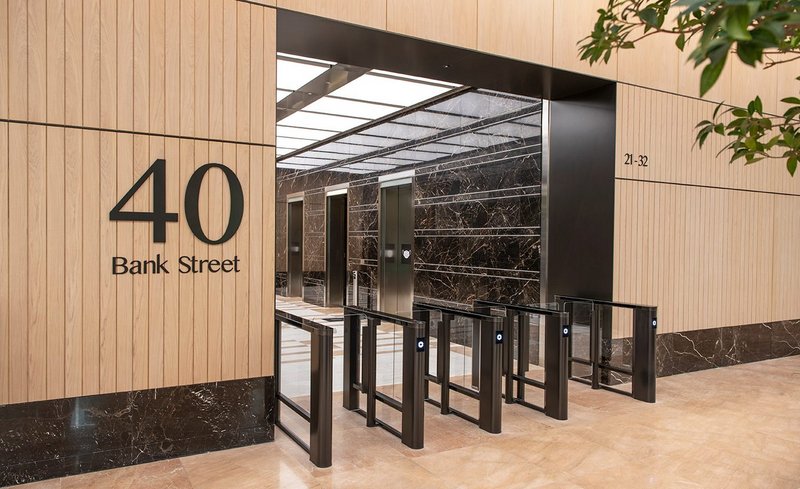 Meesons' bespoke EasyGate Elite speed gates at 40 Bank Street, London.
40 Bank Street is a high-rise building located on the south side of the Canary Wharf estate overlooking the docklands. It is operated by Canary Wharf Group.
At 33 storeys and 153 metres tall, the building provides over 56,000 square meters of Grade A office space, first-class modern facilities and easy transport links to the Jubilee Line, DLR and the Elizabeth Line.
40 Bank Street's lobby refurbishment and upgrade
In 2020 Canary Wharf Group began a refurbishment of the building's reception and lobby.
This involved replacing the existing speed gates with a modern solution to improve the building's security and prevent unauthorised users from accessing the lift lobbies, while also allowing for round-the-clock authorised access.
Security specialists Meesons proposed the installation of 12 lanes of its EasyGate Elite product split across three banks, with each bank consisting of three standard width single-wing lanes and one dual-wing lane for wheelchairs.
Crucial to the design was the finish of the EasyGate Elite cabinets. Meesons worked with the client to find a distinctive dark bronze finish that co-ordinated with the reception redesign.
QR code readers were integrated into the cabinets to enable user verification via smartphone, tablet or paper.
To prevent the light from the QR readers shining into the reception, the readers were placed on the top lid of the speed gate cabinets.
Low-level HID card readers were integrated into the front of the cabinets to provide an alternative method of authentication.
Bespoke solutions to enhanced security
The client wanted to improve the level of security by adding anti-climb detection. This feature was not readily available on the EasyGate Elite speed gate but, in close collaboration with its manufacturing partner, Meesons was able to integrate the technology into the cabinets.
The alarm tone was also tweaked so the security team could easily identify the nature of the alarm and respond accordingly.
To simplify the installation, Meesons proposed using a speed gate sub-frame so that the footprint of the speed gates could be easily set out, with cabling routed through the framework to the correct positions offsite before installation.
As with many aspects of this project, a bespoke solution was needed. The sub-frame was designed due to the floor's thick stone tiles and the minimal dimensions below the finished floor, helping to achieve an excellent result.
Find more on this case study at meesons.com/case-studies/40-bank-street
Contact:
For more information about Meesons entrance control products, fill in the enquiry form at meesons.com
---