The refurbishment of Liverpool's iconic pre-war US-style office block includes a sensitive and subtle approach to lobby security perfectly in keeping with the architecture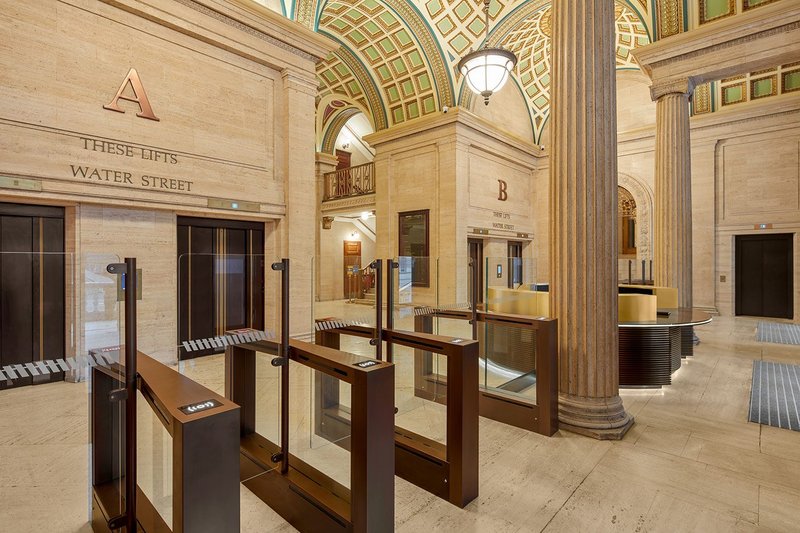 Meesons' EasyGate SPT speed gates at India Buildings, Liverpool.
The grade II* listed India Buildings office block on Water Street in Liverpool's commercial district was designed by Arnold Thornely and Herbert Rowse and built between 1924 and 1932.
It suffered extensive bomb damage in the city's Blitz of May 1941 and was subsequently reconstructed.
In 2017 a four-year refurbishment by Falconer Chester Hall Architects began. In order to provide 280,000 sq ft of Grade A office space, the programme involved extensive internal and external works. It completed in August 2021.
Remedial work was required to ensure the building was fit to house its new tenants, while protecting the distinctive heritage features, including the arcade and lobby interior.
The building now serves as a regional hub for around 4,500 HMRC staff and is also home to the 150-cover Hawksmoor steak restaurant.
Due to the heritage aspects of India Buildings that had to be protected as part of the listed building consent, any security solutions needed to be in keeping with the architecture of the building.
Specifying Meesons' EasyGate SPT speed gates
Specialists Meesons worked closely with the architect to deliver a solution that looked like it had always been there.
Having provided a similar entrance control solution for ten other HMRC hubs, which had met the client's performance criteria, Meesons EasyGate SPT speed gates were chosen for the main and staff entrances.
Rectangular speed gates were provided with a steel top lid, finished in a special powder-coated heritage bronze to blend in with the existing architecture.
Finishing details on the cantilever glass balustrade and the remote-control panels located on the reception desk were also finished in the same powder coating.
To preserve the historic marble flooring, an alternative method of securing the lanes to the floor was used.
Meesons: secure solutions for busy buildings
Meesons installed seven lanes across two banks on either side of the main reception desk, with a further five lanes at the staff entrance.
In order to manage the high volume of staff and visitors to the building, single-wing lanes were provided to maximise the throughput and reduce any crowding at peak periods.
Each bank of EasyGate SPT speed gates consists of an EA-compliant wide access lane suitable for wheelchairs.
Completing the secure line in the main reception, a cantilever infill barrier was provided to prevent unauthorised users from attempting to gain access by climbing over.
At 1,500mm high, the glass wings and balustrade glazing were selected to act as a deterrent to intruders.
After four years and significant remedial works, Liverpool's landmark has been sympathetically restored in line with the architects' original design.
The refurbishment has been been providing Grade A office space for the city of Liverpool and a safe working environment for its tenants for two years.
Find more on this case study at meeson.com/case-studies/india-buildings

Contact:
For more information about Meesons entrance control products, fill in the enquiry form at meesons.com
---