Discreet minimalist speed gates and glass balustrades allow a double-height reception to shine at 5Plus Architects' Lincoln Square project in Manchester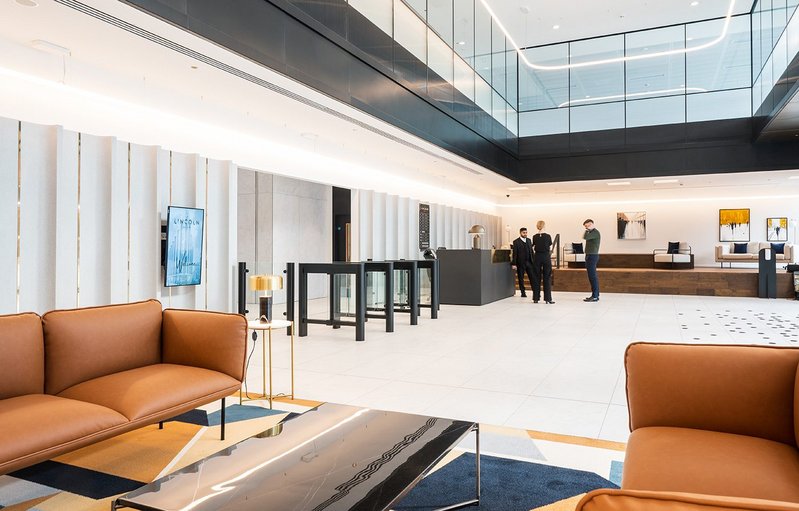 Meesons' SG1000 Speed Gates at the Lincoln office building, Manchester. Their minimalist design provides discreet security in the open-plan double-height reception area.
The Lincoln is a new Grade A office building in Brazennose Street on Lincoln Square in the heart of Manchester's Central Business District.
The statement, six-storey building was designed by 5Plus Architects and provides 102,000 sq ft of high quality office space. Amenities include a wellbeing suite and rooftop garden terrace.
It opened in summer 2021 and has achieved a BREEAM Excellent rating.
Luxury aesthetics from the ground floor up
As part of the Lincoln's design, the architects created a double-height contemporary reception using high quality materials for a luxurious, contemporary feel.
The space includes meeting areas and a breakout lounge for tenants and visitors to work and collaborate.
Creating a simple-to-manage entrance control solution
To secure and control access to the building, security specialists Meesons' installed three lanes of its SG1000 Speed Gates in front of the lift lobby and main building access and a Pass Gate alongside the main reception desk.
A touch control panel allows remote control access, while the EA-compliant Pass Gate provides entry for people using wheelchairs.
To complete the secure line to the lift lobby and main access, a glass balustrade was installed. The Speed Gates, Pass Gate and balustrade posts are all finished in a Black RAL powder coating in keeping with the premium finish and interior design scheme of the reception area.
The stylish, minimalist design of the SG1000 Speed Gates is a perfect fit for the glazed and spacious reception area, which creates an open and welcoming feel for everyone who works in and visits the building.
The Lincoln development has helped regenerate and reinvigorate Manchester's previously underutilised Lincoln Square.
Find more on this case study at meesons.com/case-studies/the-lincoln
Contact:
For more information about Meesons entrance control products, fill in the enquiry form at meesons.com
---