Nero and Beton surfaces have been chosen for the vanity units, worktops, splashbacks and fireplaces of an oak-lined minimalist property near Medellin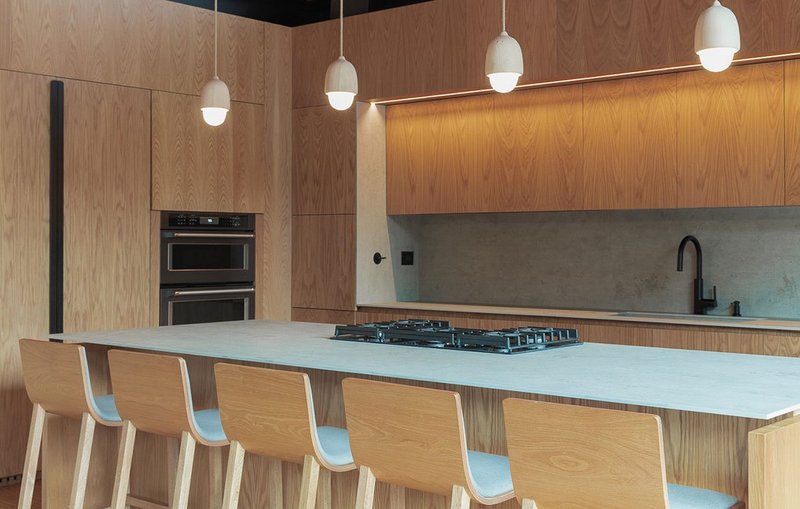 Neolith Beton worktops and splashback in the oak-lined kitchen at Casa Dos Aguas.
Neolith Sintered Stone has been specified by interior design firm 5 Sólidos for a residential property called Casa Dos Aguas near the city of Medellin, capital of Columbia's mountainous Antioquia province.
The client wanted to create a secluded, Japanese-inspired residence that would offer peace and tranquillity away from the bustle of the nearby city. To meet the brief, 5 Sólidos researched the materials and shapes that define Japan's clean, minimalist vernacular.
The result is a property designed in the style of a traditional Japanese house, comprising two wings, one private and one social, connected by a hallway and flanked by tranquil gardens. A shoji panel divides the two areas.
Timber was specified throughout to maintain a connection with nature. Yakisugi, the ancient technique of burning and varnishing wood, was used for the facade, creating a striking contrast to the natural oak tones that dominate the interior.
The gabled roof incorporates changes in height to differentiate between the household's social and private areas. The juxtaposition creates points of visual interest throughout the property, accentuated by skylights and dormers in the bathrooms and hallways, which allow shafts of daylight to pierce the space.
The private quarters consist of three en-suite bedrooms with spa-like wet rooms. Neolith Nero was specified for the vanity tops to create a distinct visual and textural contrast to the neutrality of the surrounding wood.
The rooms provide a tranquil setting for unwinding and relaxing, offering views of the countryside through floor-to-ceiling windows.
The biophilic theme carries through to the social wing of the house, which comprises the kitchen, dining room and living room. The kitchen is an ultra-modern, clean-lined space. Neolith Beton, a surface inspired by poured concrete, was chosen for the worktops and splashback.
Casa Dos Aguas's gardens were designed to heighten wellbeing by reflecting the four elements of land, water, air and fire. Decking leads on to a wet zone with a swimming pool and water mirror and a central path used for meditation. The lowest level of the deck forms a seating area and fire room featuring an external fireplace made in Neolith Beton.
All Neolith surfaces are 100 per cent natural and manufactured in a carbon neutral environment. The material is appropriate for any professional or residential surfacing application. It is also one of the safest and most hygienic materials available, without compromising on performance and visual appeal. Neolith: the safe, sustainable surfacing solution.
For more on this case study, visit neolith.com/casa-dos-aguas
For more information and technical support, visit neolith.com
Contact:
Neolith Urban Boutique, Business Design Centre, 52 Upper Street, London N1 0QH
020 7288 6212
---