An all-singing all-dancing showroom in Italy's fashion capital plays with visual perception and dazzles with gold to reveal the limitless useability of the natural composite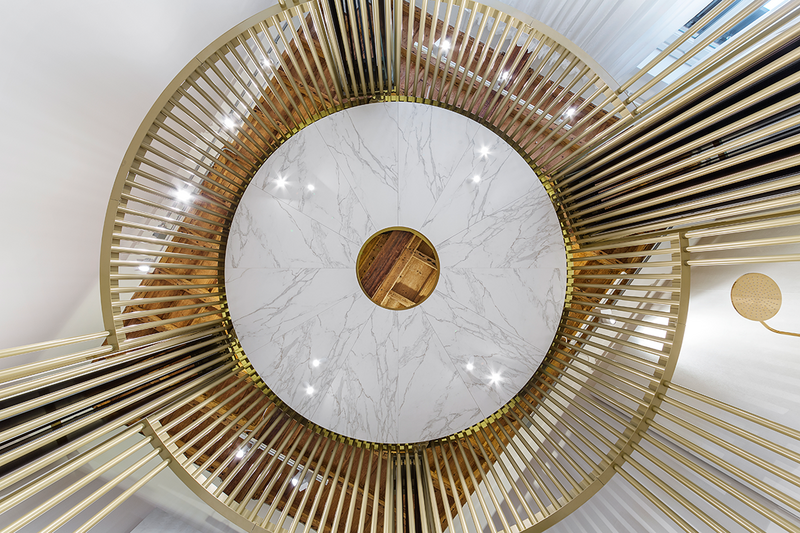 The nerve centre of Neolith Urban Boutique Milan: 'The circular space is dominated by a central rotunda, inviting guests to contemplate an ancient pantheon.'

Credit: Héctor Ruiz Velázquez
Neolith Sintered Stone opened the doors of its Urban Boutique showroom on the Piazza Santo Stefano in Milan last year. The showroom, by Puerto Rican architect and designer Héctor Ruiz Velázquez, is an exhibition space with a special focus on user experience.
The premises are split into areas created around the theme and concept of each of the brand's surface materials, forming a circuit that leads to an inner core at the heart of the space. Throughout their visit, guests discover the virtues of Neolith Sintered Stone, the design possibilities of its large format, its sustainability and technical characteristics.
The welcome area, Agora, features Neolith Zaha Stone on the floors, walls and part of the ceiling. A long pool at the entrance evokes a natural cave that is reflected back in a large mirror, duplicating a focal-point olive tree that takes centre stage.
The central room at the heart of the premises is dominated by an oculus or rotunda that leads out to the other rooms. Golden details are designed to entice visitors in, summoning them to reflect upon, take in and make decisions about Neolith's range of surface materials. It's an alternative approach to modern showrooms. This circular space leads visitors up and on to the Summum, the highest level featuring Neolith's Calacatta stone material.
Strata Argentum features in the Atrium, a laboratory kitchen concept that can also be accessed by a ramp between two walls. Changes in elevations are part of a play on perception. One of the walls is a fireplace on one side and a piece of furniture on the other, while a short path leads the visitor up above the level of a kitchen countertop - the highest point in the area.
The purpose is to foster sociability and gathering. The space is designed on three planes, comprising the ceiling, walls and flooring. The focus is on the broad useability of the material - on floors, countertops, walls and ceilings - and on the technical qualities that make it particularly suitable for kitchens.
Neolith is a natural, recyclable compact surface made of clays, feldspar, silica and natural mineral oxides with impressive resistance and durability properties. It has near-zero porosity, making it hygienic, easy to clean and impervious to chemicals.
Neolith Urban Boutique is at Piazza Santo Stefano, 10, 20122, Milan, Italy.
For more on this case study, go to neolith.com/case-studies
For more information and technical support, visit neolith.com
Contact:
01279 454301
---