Construction industry heavyweights respond to climate emergency with Embodied Carbon in Construction Calculator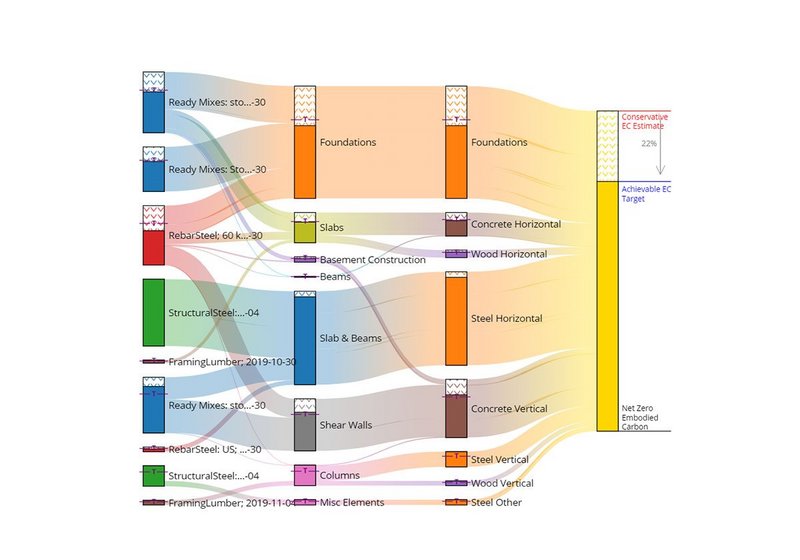 Calculating carbon from material quantities via open source software.

Credit: EC3
Open source applications could prove critical in the drive to tackle the climate emergency.
Industry heavyweights including Autodesk, Arup, Skanska USA and Katerra have teamed up with Microsoft to launch an open source embodied carbon calculator designed to slash the global impact of construction.
The Embodied Carbon in Construction Calculator (EC3) tool, which has now been launched would make it simpler for architects, engineers, contractors, policy makers and others to compare and reduce emissions from construction materials.
The software provides access to a database of 16,000 materials that is searchable based on environmental performance requirements, design specifications, project location or global warming potential.
In trials, it enabled Skanska USA to reduce the carbon costs of designs by up to 30%, in most cases without increasing construction costs.
Beth Heider, chief sustainability officer at Skanska USA, commented: 'It may not matter how efficiently we operate our buildings over time if we don't immediately address the carbon embodied in what and how we build. We only have a short time to actionably reduce carbon emissions as a society. With our benchmarking and the EC3 tool, we more fully understand the emissions footprint of how and what we build—and can chart an urgent course toward its reduction.'
Roughly half the carbon produced during the average 30-year lifecycle of a new build completed this year will be embodied carbon, according to figures from the independent non-profit organisation Architecture 2030. That includes all emissions associated with construction, including material extraction, transportation and manufacture.
Given that between now and 2060 the amount of building floorspace worldwide is expected to double in response to population growth, the urgent need to cut embodied carbon is clear.
The EC3 tool was created by climate-focused software developer C Change Labs and jointly seed-funded by Skanska and Microsoft after they determined that a collaborative, open-source solution was the most effective method to reduce embodied carbon emissions.
Traditional assessments of building emissions typically focus on operational carbon and energy efficiency in use, and data on embodied carbon is often either missing or too complex to evaluate with a limited number of tools or benchmarks available.
To hasten a solution, the Carbon Leadership Forum incubated the project with expert input and financial support from Autodesk, Interface, the MKA Foundation and the Charles Pankow Foundation. Subsequently, over 30 other industry-leaders joined the project.
Find your carbon calculator: H\B:ERT, FCBS Carbon (these are both free to use). Other calculators are Eccolab from Architype; Structure Workshop, Arup and Elliot Wood also have one.