Voted the world's most beautiful object, the Gyrofocus fireplace will take centre stage at the London trade event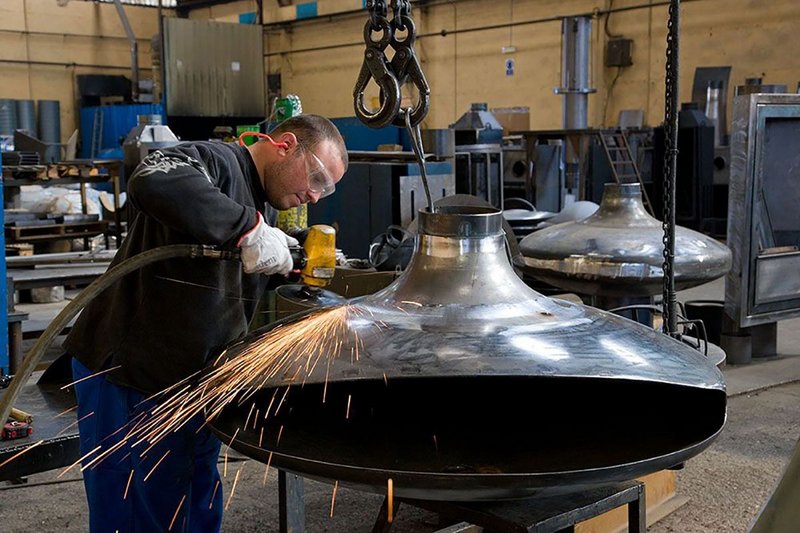 Manufacturing a Gyrofocus fireplace at the Focus factory near Montpellier, France.
French manufacturer Focus will be exhibiting the original sculptural fireplace at the 100% Design trade event at Olympia, London from 18 to 21 September 2019.
The seminal Gyrofocus was designed by Dominique Imbert, founder of Focus, in 1968 and remains as popular today as when it first appeared. The multi-award winning design was the world's first suspended 360-degree pivoting fireplace. It was revolutionary as much for its technical design as its ground-breaking style. Its ease of installation, made-to-measure flue and heat efficiency have all helped make the Gyrofocus the signature model and symbol of Focus. In the past 50 years the company has sold over 60,000 hand-crafted fires from its base outside Montpellier in the south of France.
The Gyrofocus is an international classic that has been exhibited in the Bordeaux Contemporary Art Museum, Le Magasin National Centre for Contemporary Art in Grenoble and in New York's Guggenheim Museum. In 2009 it won first prize in Italy's Pulchra design competition in which 74,425 online voters chose the Gyrofocus from a selection of 100 designs as the 'world's most beautiful object'.
As every project is different, millimetric precision is required to create each fireplace. Focus has a range of nearly 70 designs for inside and outside and for gas and wood, many of which meet the stringent EU Ecodesign label regulations due to come into force in 2022.
The company has made its name pioneering design and fireplace technology and has an in-house team dedicated to research and development. As a result, Focus fireplaces are regularly specified for Passivhaus and low-energy housing and hotels. Many of Focus's designs offer clean combustion and high-performance alternatives, including its latest Boafocus and Lensfocus models.
Focus gas fires emulate the flames and play of a real wood fire while eliminating the disadvantages. All its gas fires are equipped with a CE-certified gas burner that can operate with either natural gas or propane. Closed gas fires are particularly efficient for heating and, equipped with a remote control, are easily adjustable and simple to use. If there is a power outage, Focus gas fires continue to operate and provide heat independently of an electric power source, in contrast to other types of heating systems such as boilers or pellet stoves.
The Focus production centre near Montpellier occupies an area of 22,000m² and is at the heart of one of the most important logistical centres in southern Europe. It has 7,800m² of workshop space with state-of-the-art multifunctional production equipment, a department with powerful 2D and 3D software for computer-aided design, which allows the team to conceive and develop blueprints as well as design objects with complex shapes, plus 400m² of office and showroom space in which over 30 Focus models are displayed. Focus fires are readily available throughout the UK and the rest of the world.
Focus will be exhibiting the Gyrofocus fireplace and a range of different models at 100% Design, Olympia, London, Hammersmith Road, W14 8UX from Wednesday 18 to Saturday 21 September 2019. The event is also open to the public on the Saturday.
For Focus technical support and more information, visit focus-fireplaces.com
Contact:
+33 (0)467 550193
---