Noise control was key to the success of this workplace fit-out at a 1920s former printworks in Farringdon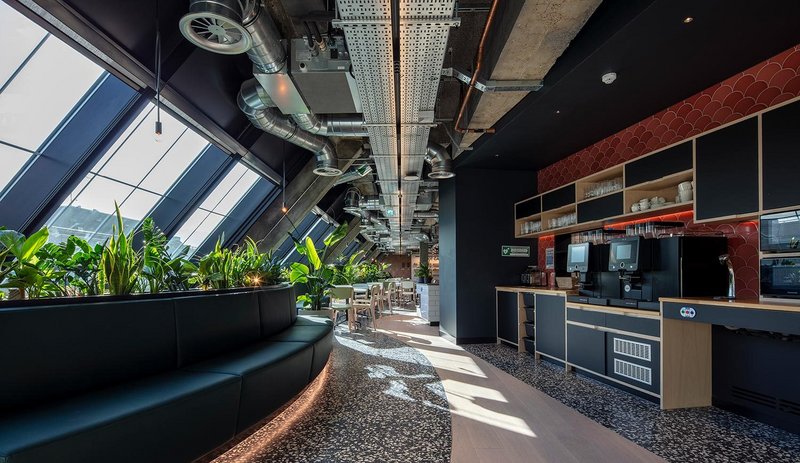 The quiet revolution: Herbal House, Farringdon. SonaSpray K-13 was installed as part of an acoustic design specification that dampens excessive noise to create a calm, inviting and productive workspace.

Credit: TP Bennett, BW Workplace Experts and Tom Green Photography
Pre-pandemic, the design of most work environments tended to focus on aesthetics over providing meaningful places that promote wellness and productivity.
When reimagining a two-floor office in Herbal House on Back Hill in Farringdon, London, office fit-out specialist BW Workplace Experts knew that enhancing the space with quality acoustics was vital.
Harnessing acoustic design to improve productivity
Built in 1928, the former printworks and one time home of the London College of Printing is a media landmark, but without acoustic treatment, the office would have become a stressful environment, directly compromising employee comfort and productivity.
Staff needed to be free of distractions and able to concentrate without the infringement of excessive noise.
An effective design solution was required and an architectural acoustic finish turned out to be crucial to the success of the project.
Choosing demonstrably sustainable acoustic products
The architects TP Bennett specified Oscar Acoustics' SonaSpray K-13 in grey for its sound absorbing abilities and decorative finish.
It was applied to ceilings throughout the focused work areas, co-working spaces and break-out areas, blending in seamlessly with the flexible workspace.
SonaSpray was also chosen for its environmental credentials. It contributes towards many sustainable design and health certification systems, including the WELL Building Standard, BREEAM, SKA and Living Building Challenge. SonaSpray can add up to 17 points towards the LEED rating of a project.
Specifying fire-rated acoustic solutions
SonaSpray significantly betters the updated Approved Document B fire requirement (Class 0 to BS 476 and B-s1,d0 fire rating).
In the event of a fire, the acoustic spray provides little to no smoke and absolutely no droplets, assisting in the safe escape of occupants.
With over 44 years in business, Oscar Acoustics has built a reputation for the reliability, quality and performance of its acoustic products.
It has been at the forefront of modern office design, working with businesses of all sizes to reduce noise, improve focus and boost the happiness and welfare of staff.
It has an extensive range of recycled, seamless, acoustic decorative finishes for the control of noise reverberation in buildings that offer superb acoustics without design compromise.
For more information and technical support, visit oscar-acoustics.co.uk
Contact:
01474 854902
---