Say it quietly: noise has a detrimental effect on building users' focus and wellbeing. Controlling it through design makes workspaces more efficient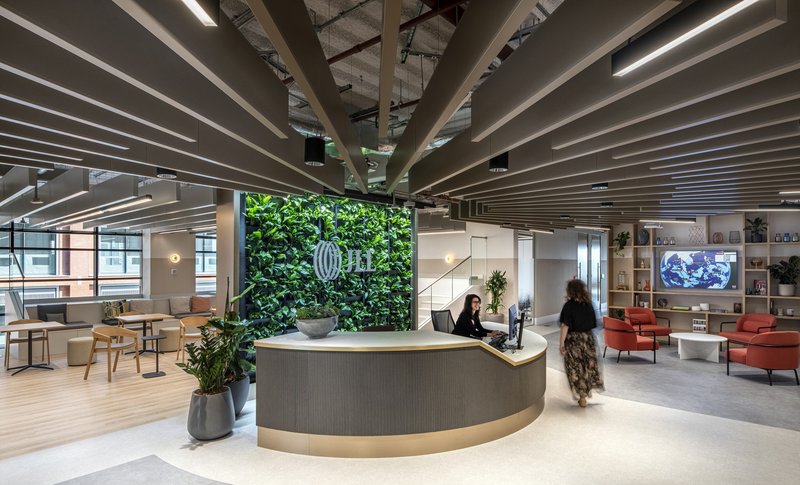 SonaSpray K-13 Special acoustic spray in white throughout 20 Water Street, London. Design and fit-out by Tétris Design x Build.

Credit: Photo by Jonathan Banks
Low productivity and issues filling job vacancies have highlighted the importance of prioritising efficiency and employee wellbeing in the UK.
A changing world of work and the growth of the hybrid model has come with the realisation that some offices can be impractical and uninviting - often too noisy and short of quiet spaces for focused work.
Architectural acoustic finishes specialist Oscar Acoustics has carried out a study into workplace noise.
It polled over 2,000 office workers to find out the root causes of office noise and its effects on staff. Here's what it found:
Just 8 per cent of respondents work in a quiet office, with only a quarter of office workers operating in a space that's been well designed for their job.
Four in ten office workers said poor acoustics were impacting their concentration and a third said their mood was negatively affected, with a quarter reporting stress induced by noise.
Only 20 per cent of employees said they thought their bosses took the situation very seriously.
One in three office workers said they are either late with projects or turning in poorer quality work due to noise.
The health implications of excessive noise
High levels of excessive noise can cause permanent health damage.
The study found that 15 per cent of UK office workers believed their workplaces have damaged their hearing. A fifth said it had led to disturbed sleep and a quarter reported stress due to noise levels in their office.
The World Health Organization says excess noise is harmful to health but, when asked, only a third of UK workers associated excessive noise with hearing loss and high blood pressure.
Only one in seven understood it could lead to diabetes, stroke, heart disease and heart attacks.
Finding solutions to workplace noise levels
'Noise may seem like a minor irritant, but not addressing it could hurt your business's bottom line and put your employees' health at risk,' says Ben Hancock from Oscar Acoustics.
'Employers are facing challenges around staffing and needing to achieve the same results with fewer people. That's why bosses must consider how employees can use workspaces most effectively.
'While aesthetics are important, you also have to consider how people work and ensure that there are spaces for collaboration, concentration and connection.'
Addressing workplace noise levels is a quick win that can make a big difference. The study demonstrates how improving acoustics can:
Increase focus.
Raise productivity.
Boost wellbeing.
The results of the Oscar Acoustics study have been pulled together in a downloadable whitepaper called 'Noise Annoys'.
Oscar Acoustics works with businesses of all sizes to reduce noise, improve focus and boost the happiness and welfare of staff. It is the leading provider of acoustic solutions for buildings throughout the UK.
For more information and technical support, visit oscar-acoustics.co.uk
Contact:
01474 854902
---