Optimal acoustics are key to a healthy and productive working environment and specifying the best products can help your building exceed its BREEAM targets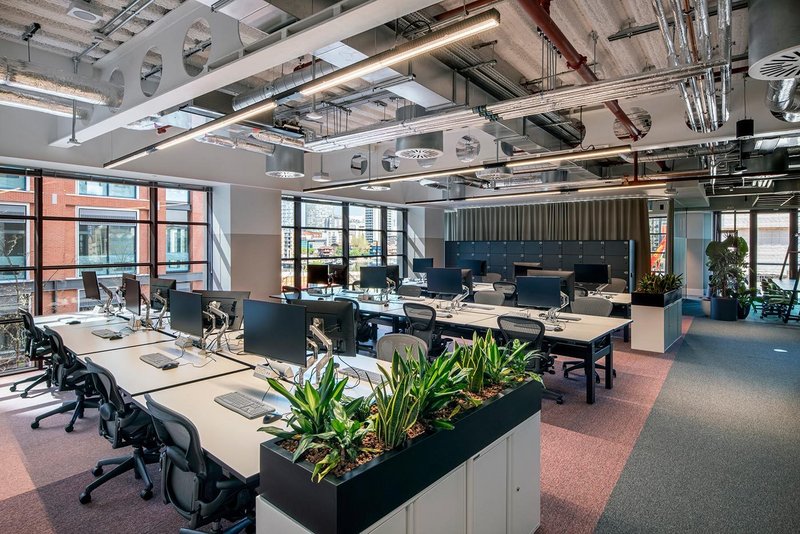 Oscar Acoustics' SonaSpray at real estate firm JLL's headquarters in 20 Water Street, Canary Wharf - calm and inviting spaces where employees can thrive.

Credit: Jonathan Banks Photography
20 Water Street in Canary Wharf, London is leading the way in post-pandemic office design. The waterside workspace is the headquarters of real estate firm JLL and was fitted out by its subsidiary arm Tétris.
The offices needed to be free of distraction to allow employees to focus and thrive. It was also important that teams could easily collaborate in its spaces without having to raise their voices to be heard.
The expectations were high in terms of design, function, staff welfare and productivity.
'Our vision for 20 Water Street was to create a future-ready workspace,' says Tétris managing director Augustin Dufour, 'but we knew that noise control would be a major factor in creating a dynamic but comfortable working environment.'
Tétris specified SonaSpray from Oscar Acoustics, an acoustic spray range with a reputation for achieving best-in-class acoustics at some of Britain's most ambitious hybrid workspaces.
SonaSpray can absorb sound energy to give clarity to speech and keep unwanted excess noise at bay.
The seamless acoustic spray follows the lines of whatever is beneath it, giving architects and designers the freedom to design without the constraints of more traditional acoustic methods, such as acoustic panels, blocks or tiles.
Specifying fire-rated acoustics
As well as creating an optimal acoustic ambience in the space, SonaSpray goes above and beyond Approved Document B fire requirements (Class 0 to BS476 and B-s1, d0 fire rating).
'Oscar Acoustics was one of the very few companies that could prove due diligence on the fire safety ratings of its products,' explains Dufour.
Specifying sustainable building materials
SonaSpray meets some of the world's most rigorous and comprehensive standards for low emissions of VOCs into indoor air, with accreditations including GREENGUARD Gold Certified compliance for Indoor Air Quality.
It is also M1 Classified as a Low Emitting Building Material (the best classification possible), contributes towards SKA and the Living Building Challenge and adds up to 17 points towards the LEED rating of a project.
The building now satisfies many features under the WELL Building Standard and has been rated Outstanding by BREEAM, the world's leading sustainability assessment method.
'This project shows how acoustic solutions can enhance hybrid working spaces by placing safety, sustainability and user experience at the heart of the design,' says Ben Hancock, managing director at Oscar Acoustics.
'By focusing on the right acoustic solutions, Tétris has created a flexible and inclusive work environment that boosts employee wellbeing - it's as easy on the ears as it is on the eye.'
With over 44 years' experience, Oscar Acoustics has built an unrivalled reputation for the reliability, quality and performance of its acoustic products.
It has become synonymous with evolving office design, working with businesses of all sizes to reduce noise, improve focus and boost the happiness and welfare of staff.
For more information and technical support, see the video below and visit oscar-acoustics.co.uk

Contact:
01474 854902
mail@oscar-acoustics.co.uk