Paint range of 180 shades and 4 finishes gives architects a full spectrum of tools for creating beautifully robust designs for hardworking spaces such as kitchens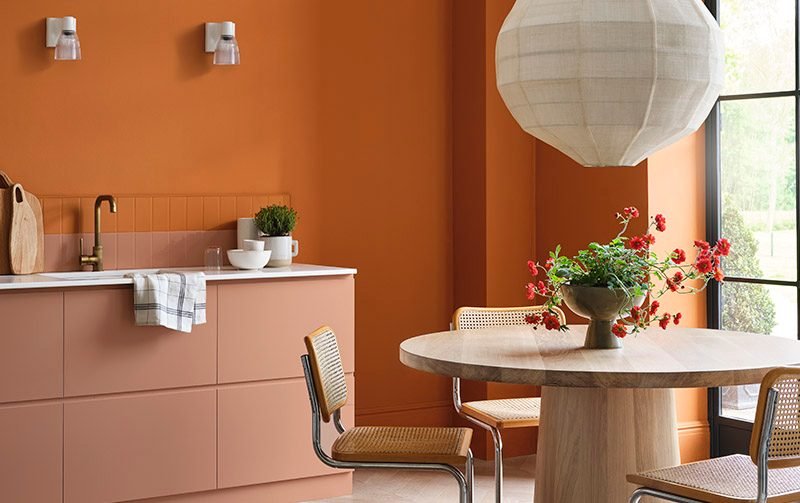 Colour scheme ideas for luxury houses. Kitchen walls painted in The Long Room, Architects' Matt; cabinetry and tiles, Roben's Honour, Architects' Eggshell, all Paint & Paper Library.
Household woodwork - such as kitchen cabinetry, skirting boards, dado rails, panelling and wooden furniture - experiences everyday wear and tear.
When selecting or refreshing these surfaces for clients, it is important to specify a hardwearing paint finish that can withstand regular cleaning while still achieving design impact.
The Architects' finishes from Paint & Paper Library have been designed to offer unparalleled toughness and durability. These innovative formulations are high-performance, self-priming, water-based paint finishes.
With true multi-surface adhesion, they can be used to paint virtually any building substrate, including wood, metal, tiles and even melamine, Formica and plastics.
Architects' Eggshell, Satinwood and Gloss are ideal for use on interior woodwork. Each is available in the complete Paint & Paper Library colour palette and is completely washable and scrubbable, offering long-lasting colour and protection.
Choose your desired sheen level, from the low sheen Architects' Eggshell (10-20 per cent) to the subtle mid-sheen Architects' Satinwood (30-35 per cent) and high sheen Architects' Gloss (80 per cent).
Painting kitchen cabinetry is the perfect way to update and bring instant character to a kitchen design.
Cabinets can take on bolder shades that might be difficult to incorporate in other areas of the home. Use a dark tone related to the colour of the walls to create a layered, tonal scheme: strong, deep Stable Green alongside soft Willow II and V, for example.
Or try a strong combination that will create a bold and vibrant setting: walls in rich burnt orange The Long Room with cabinets in pink-peach Roben's Honour.
Kitchen cabinet surfaces require a paint finish with superior durability. With its elegant satin sheen, Architects' Satinwood is an ideal kitchen cupboard paint finish that combines beauty with practicality.
Apply straight to uPVC, wood or melamine cabinetry without the need for a separate primer. It has a robust, fast-drying, water-based formula for a swift kitchen transformation that lasts.
New water-based Architects' Gloss can help add a textural contrast. It is a tough and protective paint with a reflective 80 per cent sheen, making it the perfect partner to flat matt walls.
Combine pink-based neutral Mink with cabinetry in Architects' Gloss in deep crimson, Scarlet 'n' Rust.
For more information and technical support, visit paintandpaperlibrary.com

Contact:
0845 880 5844
mail@paintandpaperlibrary.com
---