With more colours and a reformulation, interior designers now have even more ways to mix and match bold shades and graduated neutrals across a room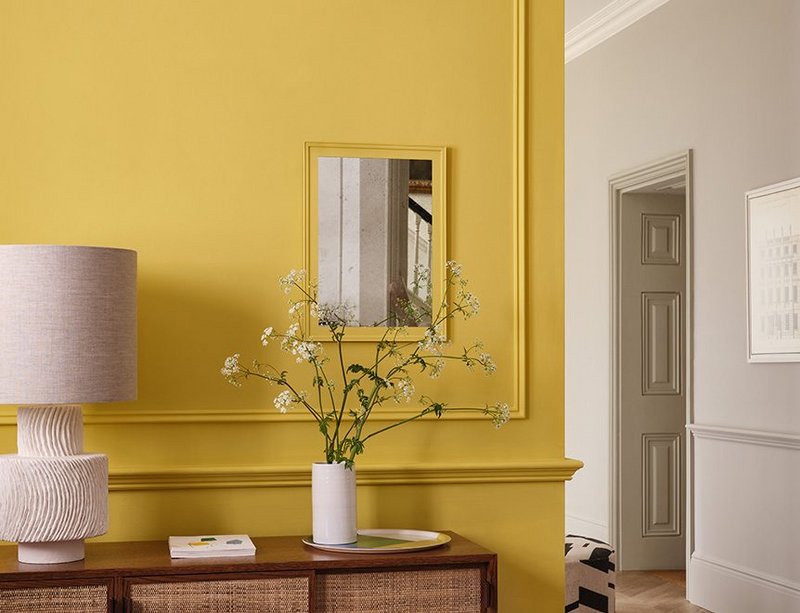 Paint & Paper Library now offers 85 Original Colours, including five bright whites, and 95 Architectural Colours in five numbered gradations of tone. Hallway wall painted in Brimstone; living room wall and door in Salt III; ceiling and coving in Clean White 101.
Paint & Paper Library is adding new colours and reformulated, water-based finishes to its colour card in a bid to transform how interior designers decorate.
Launching later this month, the updated collection will feature nine new additions to the Original Colours range, three new Architectural families of colour and eight shades revived from the Paint & Paper Library archive.
Original Colours and Architectural Colours offer architects a palette of bold tones and graduated neutrals that can be combined to create interiors in a range of styles.
More Original Colours
Original Colours provide a colour for every personality, adding strength and character to any space. The new 2022 shades are:
Nori Blackened teal.
Soumak Middle-eastern red.
Iguana Chameleonesque Cayman blue.
Mchanga Red-earth shade found in the river sands of Tanzania.
Brimstone Contemporary mid-strength yellow.
Ruse Sophisticated diluted rose.
Mockingbird Fabulous, profound soft blue.
Fynbos Impactful green, muted with black.
Sencha Distinctive, elegant green.
These striking new colours can stand alone to deliver bold, impactful interiors or work in combination to create contrasting, contemporary schemes.
More Architectural Colours
This sophisticated, colour-by-number palette offers varying strengths of the same pigment arranged chromatically in groups of five, numbered I, II, III, IV and V, for easy harmonious decorating.
The new colour card will feature three additional families of Architectural Colours:
Powder Delicate shade with discreet pink undertones.
Cashmere Ultimate neutral for gentle, alluring warmth.
Sprig Gentle, versatile green. Its neutral make up means it can be used all over.
Revisiting the Paint & Paper Library archive
Eight colours, including rich pinks, deep oranges, charismatic greens and blues, have been revived from the Paint & Paper Library archive:
Caravan.
Kasbah.
Jaipur Pink.
Roben's Honour.
Scarlet 'n' Rust.
Pollen II.
Mink.
The Long Room.
Architects' finishes reformulated
The company has also improved its water-based Architects' finishes, introducing cutting-edge, self-priming and multi-surface adhesion formulations.
A single tin of paint can now be used to paint walls, ceilings, woodwork and more, offering the opportunity to embrace colour across every surface.
'Architects' Matt Emulsion can be used across walls, woodwork, radiators and tiles,' says Andy Greenall, head of design at Paint & Paper Library. 'The finish is as effective and hardwearing on woodwork as a conventional, higher sheen paint.'
The range of finishes - from chalky Pure Flat Emulsion to higher sheen Architects' Satinwood and the new Architects' Gloss - gives designers the chance to experiment with sheen levels and their effect on colour.
The new Paint & Paper Library colour card will be available from 12 September 2022.
Pre-order the new colour card now at paintandpaperlibrary.com/preorder-colourcard. From 12 September 2022 onwards, order the colour card at paintandpaperlibrary.com/colourcards
For more information and inspiration, visit paintandpaperlibrary.com
Contact:
0845 880 5844
---